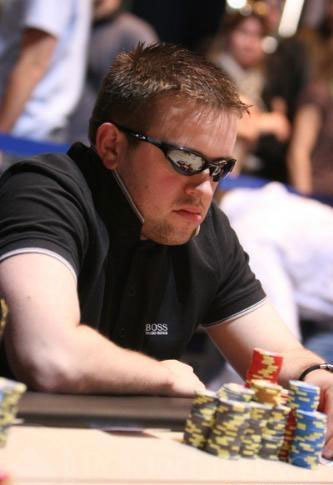 The Belgian online gaming industry is ever-changing. With PKR & Redbet joining the blacklist, and JackpotJoy joining the white list, how confusing is this for the Belgian players; Tournament Director and Professional Poker Player, Kenny Hallaert, helps us answer that very question.
The Belgian online gambling marketplace has been a confusing one for punters. With 'lists' containing more colors than a rainbow, players don't know their blacks, from their whites from their greys. Ever since the Belgian Gaming Commission (BGC) decided to restrict online permits to licensed land-based betting and gaming establishments, the Belgian authorities have been adding names and faces to their Rogues Gallery with some aplomb.
The latest batch of names to take their pride and place on the 'black list' are PKR.com, PKRcasino.com, Redbet.com, GoldenCherry.com and Klavercasino.com. That takes the total up to the sumptuous number 69 and yet still we have no record of any player, or organization, receiving a fine in relation to the rules and regulations imposed by the BGC. Those fines are €100,000 for any unlicensed site refusing to pay attention and players can be forced to forfeit winnings and pay penalties upwards of €25,000.
The only way to operate within the Belgium online economy, without a wrist slap, is to strike up a partnership with a land-based casino and that is exactly what Williams Interactive LLC has done. The American lottery and gaming tech provider has just launched the new JackpotParty.be online casino in conjunction with Group Partouche SA. The French outfit who believes it's all 'for the love of the game,' has nearly 50-venues in Belgium making it by the far the biggest land-based operator.
Orrin Edidin, President for WMS Industries and President/CEO for Williams Interactive stated: "The JackpotParty.be online casino delivers to players the convenience of playing at home in addition to playing at the casino and is an exciting complement to Groupe Partouche's leading land-based casino operations. The online experience is tailored to the Belgian player with fully localized websites in French and Dutch, multilingual customer support and localized payment solutions.
"As our first iGaming business-to-business execution, the launch of JackpotParty.be in association with Groupe Partouche is an important milestone in the execution of our online gaming strategy and expansion plans, representing a natural and seamless extension of our proven content and services platform, that clearly highlight the benefits derived from the convergence of the online and land-based gaming distribution channels.
"The Williams Interactive iGaming solutions utilize Groupe Partouche's land-based casino operations expertise and our unique authentic gaming experiences to deliver a compelling offering that combines and extends the in-casino experience to an online player community."
One of the Group Partouche SA's land-based casino offering's is the Casino Kursaal Oostend and it is from this vantage point that Bwin.Party Digital Entertainment operates its Belgian license, after a much publicized legal battle between Bwin and the BGC, after the latter placed Bwin on the 'blacklist' in Dec 2012 along with the likes of Betsson.com, Betclic.com, Williamhill.com, Stanjames.com, Betfair.com and Winamax.fr. Both parties agreeing to drop their legal dispute no sooner had the 'A' Class license been thrust into the sweaty palms of Norbert Teufelberger.
So with black lists, white lists and grey lists, how confusing is the current state of affairs in Belgium? To find out, I caught up with Tournament Director and Professional Poker Player, Kenny Hallaert.
Looking back to March 2011 when PokerStars.com launched PokerStars.be, how did that change the face of online poker in Belgium?
From that point players could play legally on PokerStars. Before that it was a bit of a grey area. Online gaming wasn't regulated but no actions were being taken against online operators.
Starting in March 2011, online poker players knew that PokerStars.be was a legal site because the Gaming Commission made it clear that they had given them an A+ license; so from that point, poker players didn't need to worry anymore if it was legal or not.
What are the main differences between the PokerStars .com and .be sites?
The games that are offered on .be are the same as the ones on. com. To begin with only tournaments and Sit & Go's were on shared liquidity, with cash games separated so you could only play against Belgian players. After a couple of months they did change that as well so now all the games that you can find on .com are the same as the ones on .be. The difference between .be & .com is that we have our own VIP-system, which is slightly worse than .com with a slightly inferior rake back deal.
How much has the partnership between PokerStars and the Circus Groupe changed the landscape for Belgian poker players?
A lot, because PokerStars is by far the biggest online poker room. Players were guaranteed that they could play legally on the website so they could continue to participate in the biggest online tournaments and have a wide variety of cash games at any stake.
The biggest live room in Belgium in Casino de Namur also received a face-lift and is now completely branded with PokerStars.be. It was also possible for them to organize a live tour in Belgium and send a lot of qualifiers through online satellites to these events.
What about the other legitimate poker sites such as Unibet or Partouche? What value does the professional poker player glean from these?
As a medium/high stakes tournament player I never play on Partouche.be and very little on Unibet. The tournaments that they offer attract very few players and I prefer to have bigger fields. Partouche is a completely separated network while Unibet is on the Microgaming network, which for me is only interesting on Sundays.
I do play a bit on Golden Palace and a lot on Bwin. There I can find tournaments, which I like to play. Also one of the main reasons I play on PokerStars is because the software is so much better than any other operator; although the recreational players might find enough action on the other sites at lower levels though.
Towards the end of 2012 the list of blacklisted sites had grown to 60. How did this affect you?
I had to close some accounts (Titan,888,Everest) because it was not legal anymore for me to play on them. I received all my funds back that I had on those sites. I did regret a little bit because sometimes these rooms had some nice tournaments. So somewhere I hope that one day an iPoker-skin will receive a license so that I can play on that skin. I also would like it if Full-Tilt would receive a license.
I support, and encourage, the closure of non-licenzed sites because you hear so many stories about players not getting their money back once they go bankrput, or are shut down. Now with the license system our funds should be safe.
PKR and RedBet have just been blacklisted as well. Any comments on this and how will this affect the game in Belgium?
I don't have an account on any of these sites. I don't think it will affect a big group of players since most players nowadays play exclusively on licensed websites anyway.
Do you find it confusing?
The most confusing part is that you have licensed and blacklisted sites and it is not clear what you can/can't do on websites that are on neither list. That's why I play only on licensed websites to make sure they I stay on the legal path.
If you go to a blacklisted website in Belgium you see this sign, so it's quite clear.