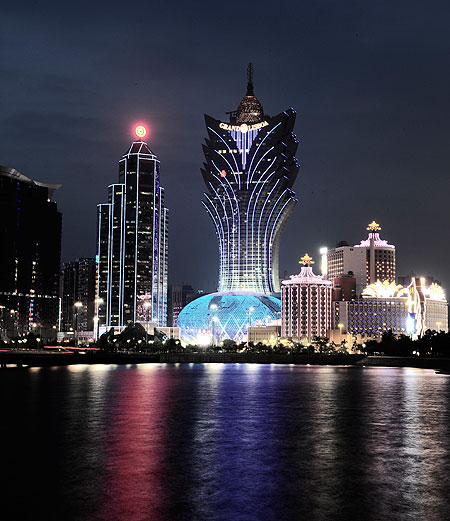 January 2013 is officially in the books and for the month, Macau's gambling revenue reached 26.9 billion patacas ($3.4 billion), a number that represents a 7.3-percent improvement from their previous performance in the same time last year. The robust returns could be attributed to the return of Chinese bettors who have taken to the calendar flipping to 2013 as a sign of a clean slate and new fortune to be had in the only place in the country where they can legally gamble. Though the $3.4 billion revenue represents stout returns by any stretch of the imagination, it still fell short of analyst forecasts for the month, which pegged an increase of 10 to 12 percent in gambling revenue this month compared to figures from January 2012.
Last year, the gambling enclave raked in an impressive $38 billion in revenues and should the $3.4 billion for the first month of 2013 average out for the next 11 months, then Macau is looking at a revenue of $40.8 billion, a 9.3-percent increase from their 2012 numbers. All this, of course, is still prognostications and by no means an accurate estimate of things to come. But still, opening at $3.4 billion for the first month of the year is still a positive sign, despite the "disappointment" in falling short of forecasts.
Okada, Gokongwei extend talks
With January 31 having come and gone and no deal still in sight, Kazuo Okada's Universal Entertainment, through its Philippine subsidiary Tiger Resort Leisure Entertainment, and the Gokongwei-owned Robinsons Land Corporation have agreed to extend their talks regarding the proposed $1 billion resort and casino complete in Pagcor's Entertainment City.
Bach Johann Sebastian, senior vice president at Robinsons Land, confirmed to the Manila Standard that the two parties had "agreed to extend" their partnership discussions. The joint decision was made largely because the expected date when the deal was supposed to be finalized had already passed, although no reason was given on why the two sides have yet to hammer out a concrete deal. No timetable has been set on when the new deadline is going to be so it remains to be seen how fast the negotiations are going to be this time around.
Currently, the Japanese tycoon is in the middle of what has become a messy investigation regarding his alleged involvement in making improper payments to a former Pagcor official in exchange for receiving favorable treatment in securing one of the four licenses the government agency was giving out some years back. But Gokongwei has gone on record recently that despite the investigations hanging over Okada's company's head, that has not played a role in delaying the talks between the two companies.
What appears certain at this point is that these two sides are not in any hurry to hammer out a deal. If they can let a deadline pass and not think too much of it, then we can at least expect a few more months of negotiations before a conclusion arrives.
Comments