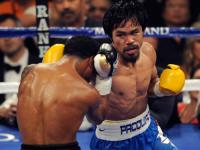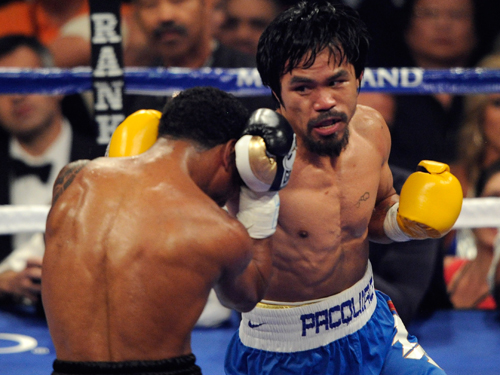 The next time we see Manny Pacquiao enter the boxing ring, there's a good chance that it won't be in Las Vegas or even at Cowboys Stadium in Arlington, Texas. Hell, it probably wouldn't even in the US at all.
The Philippine Star is reporting that the Filipino boxer's next fight on April 20 could be a lot closer to his homeland of the Philippines with the potential sites being discussed includes Macau, Singapore, and Dubai. It's not the first time Pacquiao has fought outside the US – he started professionally in the Philippines – but it is the first in the past 11 years. While there could be a multitude of reasons as to why PacMan is fighting in these locations, the biggest reason being thrown around is the lower taxes he and Top Rank would have to pay in any of these cities compared to what they'd be handing over to Uncle Obama back in the USA. That much was made clear by his chief adviser Michael Koncz, who recently told the Star that Team Pacquiao is "not interested in the US for this fight".
But even with that piece of declaration from one of the closest people in Pacquiao's tight-knit circle, it'll be interesting to see if Macau or Singapore, Asia's two biggest gambling destinations, can secure such a high-profile boxing event headlined by a guy that has supposedly spurned his gambling habits after a recent religious conversion. Dubai has been working the lines to secure a Pacquiao fight for years now, even being linked once upon a time on its desire to host what has now become an ill-fated fight between Pacquiao and Floyd Mayweather Jr.
If money were the question, it's going to be interesting which among these three locations can outbid the other two to secure PacMan's "comeback" fight after his devastating knockout loss to Juan Manuel Marquez against a still-to-be-identified fighter. Speaking of the fighter, Koncz refused to give out a specific opponent, although Top Rank promoter Bob Arum appears to be leaning on two names: Timothy Bradley whom, PacMan lost to in controversial fashion last year and young hotshot Brandon Rios.
No confirmation has been made on who the opponent's going to be, something Koncz said will only be done as soon as a location for the April 20 fight is signed, sealed, and delivered.
Right now, it's Macau, Singapore, or Dubai. Maybe reps from those three countries should jump into a ring and fight for the right to host the fight. At least there's some entertainment value to that.