Greetings again from sunny Antigua! Hope everyone enjoyed their holidays. Now that I've finished looking back at the year that was, it's once again time for the annual predictions. Here's how my crystal balls foresee 2013 shaking out…
THE AMERICAS
▶ The state in which Las Vegas resides will vainly keep faith with Harry Reid's Nevada Brick & Mortar Casino Bottom Line Restoration Act of 2012/2013early into the new year, right up to the point in the first week of February when Gov. Chris Christie signs New Jersey's online gambling legislation into law. That will prompt some Hitler-in-the-bunker meltdowns in Nevada casino boardrooms, but to save face and salvage some pride, the state will go ahead and launch its intrastate offering, just so it can claim to have been first. This launch will cause a temporary spike in the share prices of the casino companies and their (mostly) European technology partners. However, this spike will be brief and prices will soon sink below their previous levels once investors realize Nevada's total population is less than some New York suburbs, leaving an almost 1:1 ratio of online poker operators to players. Seriously, short Bwin.party, Zynga and Caesars Entertainment stock now, then buy me a beer later as a 'thank you.'
▶ New Jersey's new regulated market won't actually take its first bet in 2013, but in the meantime, the state gaming board will approve PokerStars' purchase of the Atlantic Club and it will also approve Stars' online poker – and online casino – license. After which, Pansy Ho will justifiably sue the New Jersey Division of Gaming Enforcement for defamation.
▶ In California, Rod Wright's reintroduced online poker bill will be dismissed by everybody except the horseracing operations (aka Betfair) in his home riding, but the tribes will eventually coalesce around a bill of their own. That said, they also won't be ready to take bets in 2013.
▶ The World Trade Organization will allow Antiguato impose intellectual property sanctions against the US, which will lead the powerful US entertainment lobby to bring pressure on the US government to (a) anchor an aircraft carrier group in English Harbour or (b) finally honor its WTO obligations. The latter option will earn the US some grudging respect from the international community, and it will also have ramifications for present and future improper applications of the US criminal justice system against online gambling companies with Antiguan licenses. Operators in other jurisdictions will be hit with another round of attacks this year.
▶ The judge presiding over the fight between New Jersey and the continent's sports leagues will declare PASPA unconstitutional, but instead of allowing New Jersey to offer sports betting, the judge will go on to declare all sports betting illegal, even in Nevada. (Just kidding about that last part, but man, would William Hill be pissed.)
▶ Canada will eventually pass its single-game sports betting legislation, but the resulting revenue stream won't be the windfall the provincial lottery corporations are expecting. Holding a monopoly on scratch-and-win tickets at the local convenience store is one thing; competing with the deposit bonuses and breadth of betting options available via international online sportsbooks is a beaver of a different color.
▶ Amaya Gaming will use the brief euphoria surrounding online poker going live in Nevada to offload its new Ongame Network at a tidy profit, which Amaya will then apply to help pay off its patch work quilt of an acquisition spree of the past couple years.
▶ At least one major casino company will follow Penn National's lead by spinning off assets into a real estate investment trust (REIT). Likely lads include Pinnacle Entertainment, which could use some quick cash following its $2.8b acquisition of Ameristar Casinos, or Las Vegas Sands, which is sitting on some prime hotel and retail holdings in Asia.
EUROPE
▶ Early in 2013, before its online poker service provider license comes up for discussion in Nevada, Bwin.party will make a multi-million dollar payout to the US Department of Justice in order for the Bwin half of the company to buy the same kind of immunity PartyGaming received via its $105m make-good payment in 2009 (which former CEO Jim Ryan referred to at the time as its "ticket back into the US"). Bwin's 'make-good' payment will be smaller, reflecting its comparatively smaller dealings with US customers pre-UIGEA, but with margins tight in Bwin.party's primary European markets ­ and about to get tighter in the UK under its new licensing regime ­ it will be money Bwin.party can't afford to throw away. There might not even be enough left to afford the bodyguards Norbert Teufelberger plans to bring to Bwin.party's annual general meeting.
▶ Playtech will disengage from its kiosk business in Malaysia and similar ventures after shareholders and market regulators grow more curious about ­ and less comfortable with ­ Playtech's dealings in Asian black/grey markets. The "we're not breaking the law, we're just helping others to break the law" defense won't cut the mustard for long on Playtech's new LSE home.
▶ European public companies will be vulnerable to another crisis of confidence in the Euro currency. Germany almost singlehandedly brought the Euro back from the brink during the last crisis, but the Bundesbank is now slashing growth projections for the German economy, suggesting Der Deutschen could be entering a full-blown recession in 2013. If another bankrupt country comes looking for a bailout, it may find the German tit is bone dry. Without the ability to kick that debt can down the road a little further, the Euro crisis of 2008 could look like a walk in the park; the entire European economy could contract and gambling spending would plunge.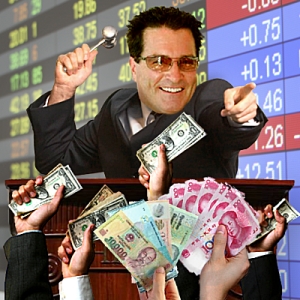 ▶ As a result, I expect at least one European publicly traded company will take itself private in order to make a concerted effort in penetrating the Asian market to help wean itself off this dependency on Europe's regulation-heavy, profit-thin markets.
▶ I also expect the depressed share prices of these companies may lead one of the cash-rich Asian operators to contemplate acquiring a European foothold on the cheap, with operators like 888, 32Red, mobile specialists Probability, software outfit Openbet and even the (not so) mighty Ladbrokes being likely acquisition targets.
▶ Similarly, while PokerStars takes the lead in America on the online/land-based convergence front, at least one major Asian online gambling operator will ink a live-dealer technology deal with a European brick-and-mortar casino, probably in London. They'll beam the feed from the floor of the casino to sportsbooks around the globe, and make a pretty penny in the process.
ASIA
▶ I could make the same prediction year-in/year-out regarding Asia. It represents the gambling world's future, but increasingly its present, as well. You either target Asia or you target irrelevancy. It's the last great gold rush this industry will see in our life times.
▶ Japan will finally legalize casinos, Vietnam will legalize sports betting, and Australia will regulate online poker. I expect Genting to acquire a controlling interest in the Star Casino, outmaneuvering James Packer's bid to dominate the Sydney casino market. I also believe the region will host the year's biggest high-roller poker tournament.
▶ Bodog will announce that it is once again entering the Bodog Conference game – including the resurrection of full-on annual Bodog Parties, but this time in Asia (okay, I know this for a fact). The Las Vegas Bodog conferences and accompanying parties are still legend, and European public companies will ban their employees from attending on account of not being sure they will come home after getting "Asian fever."
POKER
▶ Asia is the only place this sector will expand in 2013, but even here, growth will be slow. With opportunities for growth at a premium, more networks will seek to protect and nurture their net-depositing players by adopting an approach that mimics the fish-friendly Bodog recreational model.
▶ With the minor Chinese poker boom now creating more players per year than America creates lawyers, I believe an Asian poker player will hoist the World Series of Poker main event bracelet. Also, Howard Lederer will play at this year's WSOP main event, but he will be subjected to constant heckling and (at least the threat of) the occasional physical attack, leaving him sufficiently rattled to bust out on Day 1, after which he'll slink back to his non-forfeited Vegas hideaway to lick his wounds and lament his devolution from The Professor to Gilligan. (Which would make Ray Bitar the Skipper, and Phil Ivey… er… Thurston Howell III?)
SOCIAL GAMING/CASINO CONVERSION
▶ This may be the single biggest factor driving innovation in the gambling industry, in that it is changing our definition of what is gambling. While gambling made the transition from casino floor to website close to two decades ago, the games remain the same ones gamblers have enjoyed for a century or more. But social gaming companies are looking to further monetize their product, and while most of them are making their initial moves into real-money play via social casino games, there are a lot more non-casino titles in their portfolio. We've already seen head-to-head video games go the poker route by offering peer-to-peer betting. Social games can pit groups of friends against other groups of players for more than just nerdy bragging rights, but the fact that real-money will be on the line will hopefully discourage the Leroy Jenkins of your group from going rogue.
SPORTS BETTING
▶ Sports betting is going to show continued slow improvements in video streaming and in game wagering, a much more rapid shift to mobile than ever and an ever expanding range of things to bet on. However, this year is not expected to have any big changes. Again, most growth in Asia. There is going to be some integration of sports and social also this year.
TECHNOLOGY
▶ It has only been five years since the iPhonemade its debut, but smartphone and tablet sales have already outstripped sales of PCs, and comScore data says more Google maps searches are now coming from mobile devices than PCs. In a few more years, 80% of online gambling play will be via mobile, with the remaining 20% consisting of power users (multi-table poker grinders), bettors with poor eyesight and Luddites. Sports betting products will lead the mobile charge, but casino and poker will soon catch up.
▶ As last fall's Playtech v. William Hill tussle in Tel Aviv demonstrated, any online gambling company that doesn't own its own technology is vulnerable to upheavals and/or outright blackmail at the worst possible moments. Companies can either choose to make the long-term investment to become their own master, or they can opt to save a few bucks and run the risk of becoming someone else's bitch. That said, tech providers with battle-tested Asian-facing product are going to make a killing off the Johnny-come-lately operators desperate to tap into this market.
▶ Though many have heard the name 'middleware,' few know what it really is. But this is the year that online gaming middleware will burst onto the scene in our industry and everyone will be looking for the right supplier. In a nutshell, middleware gives operators freedom from any one technology supplier – a nice bonus given the state of the technology provider companies in the industry today. You just plug in all the games from any supplier on standard APIs to one dedicated back end that controls the money. This lowers the cost of operations, lowers cost and time of integration of new games from any supplier and makes it a lot easier to train entry-level customer service staff. There are some great options out there, but beware the snake oil salesmen type that are telling you their middleware does it all. In an attempt to control this space, Playtech has been trying to buy up the major developers, which, as always, creates opportunity for other developers.
▶ Watch for the evolution of live video streaming gambling out of casino games. We know there will be some super sexy dancing keno girls operating this year. This will cause lurking management issues given how cute this product is and the cost of the bandwidth. We expect this to trend to continue to pick up speed.
ANONYMOUS PAYMENTS (BITCOIN)
▶ I've been making this prediction for a few years now, but anonymous payments will continue to make inroads into the public consciousness as people become increasingly enamored with the concept of deciding for themselves how to spend their hard-earned discretionary income. This concept – if it cannot be controlled by governments – will have far reaching implications outside the industry we all love. I personally think it's already out of the bottle. In general, fortune will favor those companies that focus on excellence and controlling their own direct relationships with banks. In this business, processors are (unfortunately) notoriously slimy, so if you can cut them out, so much the better for you.
THE 'IT'S NOT ROCKET SCIENCE' FORMULA FOR ONLINE GAMBLING SUCCESS IN 2013
Keep your company away from public markets, move your head office to Manila, geographically focus your business on Asian markets, keep your platform emphasis on mobile, control your own technology and invest like hell in R&D. In the Darwinian world of online gambling, inventors and innovators will drink everyone's milkshake.
Comments