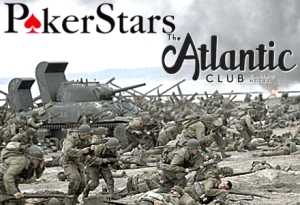 Sorry, Revel. Just hours after we speculated that PokerStars might opt for an online poker joint venture with the financially struggling Atlantic City casino, the Wall Street Journal's Alexandra Berzon reports that Stars is in "advanced talks" to purchase the equally struggling Atlantic Club Casino Hotel from its owners, investment fund Colony Capital. The move would position PokerStars to take advantage of New Jersey's push to legalize intrastate online gambling, which the state hopes to eventually expand to an interstate model via compacts with similarly progressive (and revenue hungry) states.
This wouldn't be the first brick-and-mortal casino tie-up for PokerStars, the company having taken a stake in London's Hippodrome Casino earlier this year. Berzon's sources say the Atlantic Club deal is still weeks away from completion and could yet fall apart. But the same sources said Stars' reps had already raised the possibility of being granted the necessary casino gaming license, and that the initial reaction from New Jersey regulators had been positive. Stars' founder Isai Scheinberg, who was indicted along with PokerStars by the US Department of Justice on April 15, 2011 aka Black Friday, reportedly wouldn't need to be part of the license approval process if it can be demonstrated that he no longer retains ownership of the company.
Earlier this week, a New Jersey Assembly committee approved an amended version of the A2578 online gambling bill to soften a 'bad actor' provision that would have precluded any role for companies like PokerStars, which continued to serve US players after the UIGEA was passed in 2006. PokerStars pulled out of the US market following the Black Friday indictments and reached a $731m settlement with the US Department of Justice in August to acquire the assets of Full Tilt Poker and cover its unpaid player balances. Part of that settlement included a statement that nothing precluded Stars from participating in a future regulated US market.
Berzon claims the Atlantic deal could be worth as little as $50m to Colony Capital, reflecting both the casino's recent struggles and the equally dire straits of the east coast gaming hub. The Atlantic Club (formerly the Atlantic City Hilton, then the ACH) typically ranks near the bottom of AC's dozen gaming joints in terms of monthly revenue, and gave the sack to another 80 employees just last month. Atlantic City, meanwhile, has experienced just a single month of increased revenues in nearly four years. Investment bigwig Morgan Stanley walked away from its $1.2b stake in the then unfinished Revel casino in March 2010 due to their (accurate, as it turned out) suspicions that the project would never get back to black.
Looking ahead, one has to wonder if news of PokerStars' bold move will prompt an even more desperate effort by backers of the federal Reid/Kyl online poker bill to push their pet project through the lame duck Congress. Reid/Kyl contains its own 'bad actor' provision; indeed, punishing companies like Stars by banishing them from the market for five long years is one of the bill's main selling points, according to its Nevada brick-and-mortar casino backers. Those European publicly traded online gambling companies that have inked deals with Nevada operators will also be tearing their hair out (looks like bwin.party's Norbert Teufelberger got a head start) after learning that Stars' brain trust has outflanked them once again.
Comments