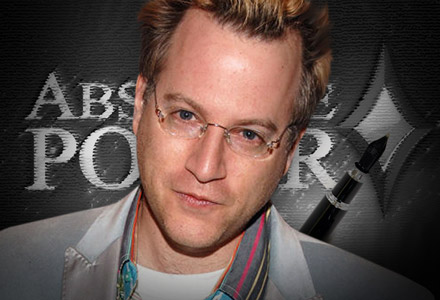 Ben Mezrich, author of Busting Vegas, Bringing Down the House and Accidental Billionaires, was on CNBC recently to discuss his next book, the subject of which is sure to be of interest to the online gambling industry: the boys from Absolute Poker.
In the interview, Mezrich describes the project: "I'm working on a big new book for next summer about a bunch of college kids who launched the online poker world out of a dorm room essentially. They're brilliant kids who built an empire in a way, and now they're being persecuted, in hiding in Antigua, because they did something to me that was very American. It's an intersection of 21 and The Social Network."
When I first heard Mezrich would be writing about Absolute, I wondered 'why', when there are far more relevant and captivating companies from the 2000s who would better represent the reality of those boom days. Then an industry source tipped me that Mezrich isn't tackling the subject of his own accord; the backers of the failed poker site have commissioned Mezrich to write their story.
Mezrich's description of the project contains several troubling aspects, as he appears to be planning to make these guys out as poker industry innovators and largely responsible for internet poker's dramatic rise in popularity. If Mezrich Googles the names Absolute Poker and Ultimate Bet looking for evidence of innovation, he'll have to find this needle amidst the haystack(s) of cheating scandals, bad debts and outraged players. These guys had their biggest success after Party Poker and other major public gaming companies pulled out of the American poker market post-UIGEA. These "brilliant kids" were just lucky enough to fill part of the void.
They were in a great position to build their company in a reputable way like PokerStars but instead they chose a darker path; cheating and stealing from their players, neglecting to give the IRS their due… In the end, they blew up the entire operation, burning all of their account holders in the process.
The telling part of Mezrich's chat with CNBC about the upcoming work of Absolute fiction was his description of the principals hiding away in Antigua, persecuted for doing something American. We assume Mezrich means playing poker, creating a business or some other entrepreneurial act. But as the US banking scandals made plain, screwing the little guy has become an extremely American pastime. That's the real, unvarnished story of Absolute Poker.
If the boys behind Absolute are looking to repair their image, this book might help. Mezrich is a talented writer, and I suspect he'll produce a fantastic and entertaining tale. But if his CNBC comments are any indication, the book will most likely be classified as 'Fiction' on Amazon (if not 'Fantasy'). Then again, if Mezrich is at all interested in uncovering the real story of Absolute Poker, we'll gladly place our pre-order now.