Man, I love Asia! Every time I go back there, I feel like I am in touch with thousands of years of culture and history.
Hong Kong, one of my favourite places in Asia, always has something new to surprise me; the second I get off the train, I am just overwhelmed with the amazing smells of food, perfume and the humidity in the air. Being a girl, I love being in Asia, the air is so humid – I never need to use a moisturiser!
But, this time I was only passing through Hong Kong to get to Macau. I was very excited as I have never been to Macau before and have only had a tiny knowledge about this place.
Everyone that came back from Macau always said it looked a lot like Vegas but smaller, so, after a few days in HK, we got ready to head out to Macau for the APT.
We embarked the evening ferry at 10 PM, went through the customs and received a bunch of new stamps (YAY!). Also, we got in trouble as our passports only have a page left so they said we would need to add more pages or else we would not be able to travel.
Arriving to Macau was magnificent – seeing all these casinos blink in the night, it really was like a mini Vegas. I kept looking at the Wynn and wanted to ask: "What happened, why did you shrink?" I was staying at the big Galaxy resort. It was about 10 minutes drive away from the Star World, which is where the APT is held, but it was AMAZING!
In case you did not know, poker is not played everywhere in Macau, only at Star World and the Wynn.
The check in staff was incredibly friendly and in minutes we were in our room. I was a little confused as to why our windows looked fuzzy, kinda like the screen at the movies when you take of your glasses during a 3-D screening, but then I realised, they are painted gold from the outside. Gold is a very important colour in the Chinese culture as it used to represent the Emperor and is considered the colour of wealth and happiness.
I did not have much time for sightseeing that day, as the morning of the next day, we met up with Will Reynolds and Tom Marchese for breakfast and I headed out towards the Star World.
I was a bit apprehensive about the whole shuttle to the casino idea, knowing that public transport in Asia can be, in a word, challenging but it ended up being great. The buses were all lined up at their stations, leaving every 8-10 minutes and were air-conditioned.
The evening service would stop around midnight but the taxi from the Star World to the Galaxy was about 5-6 USD.
I feel like a total super star every time I arrive to the APT. The CEO, Jeff Mann, always find a moment to come and say hi, Lloyd, the tournament director, always throws in a little compliment about my looks and I get to see my CalvinAyre.com Asian filming crew – Jerome and Evette; who are so great to work with.
Day after day, we bashed out interviews, covered the action and followed Bodog's Pros – Jay Tan and Darren Judges. Unfortunately, no luck in the Main, but Jay did get second in the side event, which means a lot more shoes and a dinner at the Wynn.
We went to celebrate her great result at the Golden Flower restaurant the following day. William Reynolds joined us last minute and he was wearing shorts. The girl at the front desk discreetly told us he cannot come in like that but was happy to give him a pair of pants. The result was this: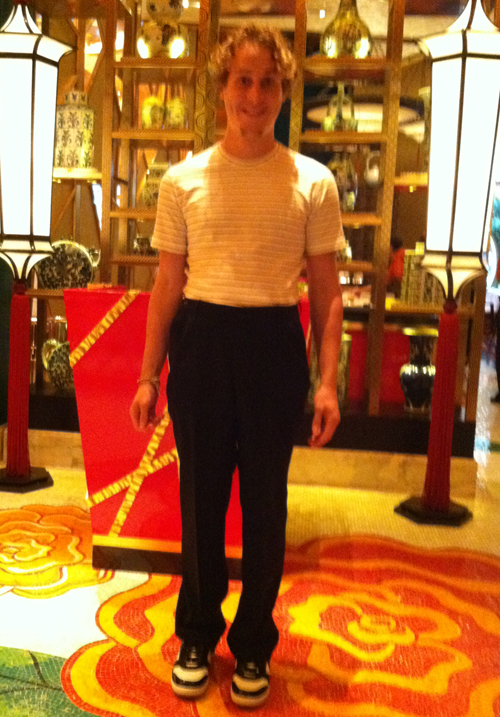 Fast forward a few days, I told McLean how cool it was that they gave him pants and he laughed and said: "You were supposed to return those!"
Oh well.
All in all, the APT was a blast. Unfortunately, I was a bit too jet lagged for the APT party but I did see they stayed out until the morning, the Royal Flush girls were really cute and nice, and I give HUGE props to the organisers that made sure the media had free water, soda, coffee, tea and snack throughout the whole event.
It is rare to see that the poker tours care about the media these days.
Besides hanging out at the casino, I did explore the city. As we're a bunch of foodies, our friend Terrence Chan told us not to miss the "Fernando's" restaurant.
We arrived there being a bunch of fish and did not bring cash, just cards so we had to get a cab all the way back to the resorts, got stuck in traffic and then had to go back with cash but it was worth it.
We had sardines, mussels and a pitcher of sangria. Boy was I rosy cheeked!
But, everything good comes to an end and I had to leave Macau to head back to Europe. New adventures are upon me but I cannot wait to come back to Asia and see the APT faces once again!
-Tash Xx
Comments