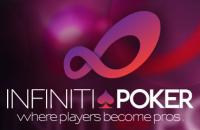 Michael Hadjuk has had a few hiccups in the past year trying to set up his new business venture. But now, after having been delayed a couple of times, Infiniti Poker is finally ready, albeit on a beta testing level.
As first reported by Pokerfuse.com, Infiniti Poker has begun sending emails to individuals who signed up for their newsletter, informing them that Infiniti Poker's beta version has gone live. Likewise, if you're looking into giving Infiniti Poker a little dry run of sorts, a username and password will be provided to give you first dibs on what the company is saying as "the new vision for online poker".
We're not exactly sure what that means so we hopped into the company's site and found a message from Hajduk, explaining the vision behind Infiniti Poker. "As a businessman, what captivated my attention the most about online poker was that despite its massive success and exponential growth over the past decade and a half, the gaming platform offerings put out by all of the online poker companies during this time has remained largely unchanged," he said.
"I have made it my personal commitment and the commitment of Infiniti Poker to bring forth to the online poker community something new and exciting. It is my intention to unveil innovations that will change how the game is perceived and played and to become the new paradigm of online gaming moving forward."
Needless to say, Hajduk has some huge plans, not just for Infiniti Poker, but for the entire online poker business in general. The company has yet to reveal their full clout of tricks and innovations, but they did announce that they're going to accept Bitcoin, which could pave the way for an alternative means of transaction that could potentially eschew certain payment processing issues.
The other important news on the Infiniti Poker website is the announcement that the company, despite still being in its infancy, has already locked up their first professional poker ambassador: the "Clown Prince of Poker" Gavin Smith.
More details regarding Infiniti Poker's official launch will be revealed soon, possibly by the fall of 2012, which is the date the company is looking into going live on an official basis.
Comments