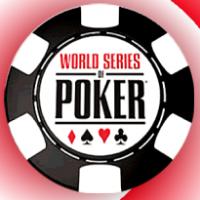 One solitary bracelet was handed out on day 29 of the World Series of Poker with Oleksii Kovalchuk going some way to remedy his country Ukraine's performance in the Euro 2012 tournament. The Eastern European player romped to victory in Event #42: $2,500 Omaha/Seven Card Stud Hi-Low 8 or Better after a long heads up with German George Danzer. Kovalchuk was happy to win his country's first gold at this year's WSOP and there's also the small matter of $228,041 to go with it.
We should have also been celebrating a bracelet winner in Event #41: $3,000 NLHE and we would have been had Aussie Jackie Glazier and New York-based Greg Ostrander not decided to head off for some kip. 30 players had started out at the day and after 10 lengthily sessions the two at the top of the board couldn't be separated. They return tomorrow to see who wins in the epic battle of girl versus boy.
20 players will be back to contest the last day of the latest $1,500 NLHE bout: Event #43. Zach Clark leads the way with 1,342,000, which is a slender lead over second placed Balazs Botond (1,320,000) and Neil Channing (1,319,000) in third. Andy Frankenberger was among those exiting on the second day and the remaining participants will play out to a finish on the third day.
If you thought the amount of NLHE events running concurrently had stopped at two then think again. Event #44 is a $1,000 entry version and after one day sees Tony Welds leading the pack. Almost 3,000 players, 2,949 to be exact, entered the event (last year it was 2,890) to try and emulate last year's first time bracelet winner Kenneth Griffin. Welds' stack sits at 131,900 with Amnon Filippi a mere 1,000 chips back after taking a heavy hit to his stack late on. They return tomorrow to try and reduce the remaining 297 players to a more manageable number.
One of poker's most respected events got underway in earnest as Event #45, the WSOP $50,000 Poker Players Championship, attracted some of poker's biggest names and with registrations open until 1 p.m. PT on Monday there will be more. The unlucky man to be eliminated on day one was David Singer and it means 103 of the 104 players to enter will be back for the second day. It includes the likes of Phil Ivey, Viktor Blom, Daniel Negreanu and Gus Hansen. Leading is Matt Glantz with a stack of 310,700.
Comments