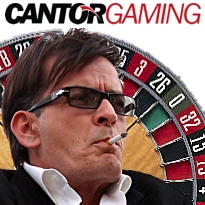 If you blinked Tuesday, you likely missed the Moulin Rouge Casino opening and closing. Las Vegas ABC affiliate KTNV reported that the casino – in reality, a 40-foot trailer containing 15 slot machines – was opened to the public for a mere eight hours Tuesday to fulfill Nevada regulatory requirements that the holder of a restricted gaming license offer gaming on its site at least once every two years. The property on which the temp casino was parked once contained the Moulin Rouge Casino and Hotel, the city's first desegregated hotel. Olympic Coast Investments hopes to sell the 15.5 acre property – and its valuable gaming license – if/when the city's dire economy rebounds. Until then, see you in two years.
Cantor Gaming is embarking on a (hopefully) more permanent gig by signing on to develop and operate a race/sportsbook at the Silverton Casino Hotel. The Las Vegas property currently contains a Leroy's sportsbook (now owned by Cantor rival William Hill) which will close at an as yet unspecified date. Cantor says it expects to have its own operation – including its proprietary mobile gaming product – up and running by October. Cantor operates multiple sportsbooks in Vegas and just inked its first deal in California.
But hold the phone. This may not be the best time to double down on Vegas' sports betting future, what with boxer/high-roller Floyd Mayweather Jr. in prison and party animal par excellence Charlie Sheen claiming he's through with betting. Sheen recently informed the New York Times: "I don't bet anymore. I'm a retired gambler." However, like Brett Favre's many retirements, Sheen may have left the door slightly ajar. "Not a recovering gambler. Big difference. I'll still look at the lines. I'll be like, yeah, that's a blowout, that's a 40-point blowout. Easy, right?" Of course it is. Which is why we're writing this from the comfort of our private island off the coast of Aruba.
Sheen says his biggest bet was a "million dollars" on boxer Manny Pacquiao's 2008 tilt with Oscar De La Hoya. "It was a wrong-way spread and I had a dream a week before that [Manny] was going to beat De La Hoya like a drum, and he did." But Charlie says the thrill of savoring his winnings just wasn't there. "It was like, pfffft, whatever. I felt nothing." (Probably just too numb from all the blow.) "I went, okay, there's nothing left for me here. Unless my children are involved in the wager, no sense in making it, you know?" We're hesitant to ask whether "involved" means Charlie letting his kids make his betting picks, or whether he planned to offer one of them up as a stake for a spin of the roulette wheel.
If Charlie really does plan on wagering his kid on a spin of roulette, he may want to bet on 19, especially if he's playing at the Rio. On Monday, pro poker player Jeff Romano snapped the below photo of the roulette wheel display showing an improbable seven straight times in which No. 19 came up a winner. The Beyond the Best site claims the odds of such an occurrence are 114 billion to 1. The Caesars Entertainment casino has yet to comment on whether the machine may have been mistakenly greased with some of Charlie's Tiger Blood.