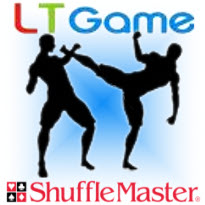 Global Gaming Women, the American Gaming Association (AGA) initiative that launched at the 2011 Global Gaming Expo (G2E) in Las Vegas, plans to open a Macau chapter. Some 50 gaming industry women – about 20 of them Macau-based – attended a breakfast meeting at the Venetian during this week's G2E Asia with the goal of "connecting female leaders of today with female leaders of tomorrow." A GGW website will launch in September which will enable online mentoring of tomorrow's leaders by today's senior gaming execs. Development of the website will be assisted by gaming device maker Shuffle Master.
While the AGA's initiative seeks to expand its presence in Macau, the AGA is threatening to shift future editions of G2E Asia to Singapore after the exhibition floor tussle between US-based Shuffle Master and Macau-based game-makers LT Game. The brouhaha officially got underway Wednesday when Macau customs officials paid a visit to Shuffle Master's booth. The officials were acting on complaints from LT Game that Shuffle Master's live dealer baccarat table game technology featured elements in which LT Game claimed intellectual property rights (the legal fight over this claim is still working its way through the local court system). Initially, Shuffle Master was compelled to cover up the offending product, but upon receipt of a court order, was back displaying its full wares by the end of the day.
LET'S GET READY TO RUMBLE…
WorldGamingMag.com posted a detailed blow-by-blow account of the dust-up, which dates back to last summer, when Las Vegas Sands' (LVS) Macau properties removed Shuffle Master technology from its Imperial Stadium electronic table game set up, replacing it with LT Game's product. LT Game was also the live dealer baccarat provider at the recently opened Sands Cotai Central. At the time, LVS exec VP of corporate slots Eric Persson told World Gaming the decision to go with LT Game was because "patent litigation" would have meant going without live dealer baccarat technology altogether.
LT Game told World Gaming that it holds two Macau patents that give the company an effective monopoly on multi-game terminal live dealer baccarat. LT Game also claims to have patented this technology in America. Ahead of the G2E Asia, LT Game obtained an injunction from the Macau Court of First Instance to prevent four rivals – Shuffle Master, Alfastreet, F2 Systems and Interblock – from displaying technology that infringed on LT Game's patents. On the Friday before G2E Asia, this injunction was presented to the show's organizers, Reed Exhibitions. LT Game claims Reed reps responded by demanding compensation for any losses that might arise from major exhibition participants being prevented from displaying their wares. LT Game said amicable agreements were reached with three of the four companies named in the injunction to cover up their offending wares, but that LT Game had been unable to reach a similar deal with Shuffle Master.
This led to Wednesday's appearance by the Macau customs officials, which in turn prompted the appearance of a reportedly irate AGA CEO Frank Fahrenkopf. Exhibition staff then erected partitions to block LT Game's booth from view, followed by threats to cut the electricity to LT Game's booth if the injunction against Shuffle Master wasn't lifted. Speaking to the Macau Daily Times, LT Game's sales & marketing manager Betty Zhao called this threat "very unfair for a company trying to protect its patent rights."
SPLIT DECISION
Shuffle Master declined to provide its side of the story to World Gaming, bar the release of a statement saying "no court in Macau has found that we have infringed upon anyone's patents. Therefore, we strongly believe in our lawful right to sell all of our products fairly and competitively in Macau and that no infringement of patents exists or will be found to exist." The AGA and Reed Exhibitions subsequently issued their own statement saying it was "not uncommon that in such a competitive environment legal disputes may arise which must be resolved through the justice system. G2E Asia should not and does not play any role in such conflicts." But World Gaming reported that the AGA intends to lodge a formal complaint with Macau authorities over the skirmish.
Fahrenkopf himself told local media that next year's G2E Asia might well take place in Singapore if organizers believed there would be further attempts to "interfere over litigation." Alfastreet's Albert Radman told InterGaming his company would think twice about returning to another event in Macau. "What purpose would we have for coming next year if we can't exhibit our products?" But the Macau Gaming Equipment Manufacturers Association pushed back with its own statement, calling the serving of the original injunction "a milestone event" and "the first successful case in protecting the copyright" of one of its member's intellectual property.