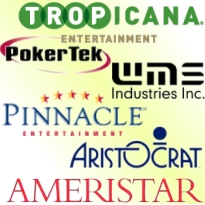 Illinois-based slot machine maker WMS Industries saw net income fall 9% to $22.1m in fiscal Q3, despite positive numbers from its nascent interactive division. Overall revenues were off 9% to $176m, based on a 7.9% drop in product sales to $110.6m and a 9.7% drop in gaming operations to $65.4m. Also trending downward was the company's total installed base, which fell 6.1% to 9,389 machines. Average revenue per machine was down 10.6%. Bucking the downward trend was WMS' interactive division, which saw revenues rise 136% to $9m. Having failed to meet analysts' expectations, the markets punished WMS by sending its stock down 7.1% on Tuesday.
Things are far rosier (albeit on a smaller scale) over at electronic gaming table manufacturer PokerTek. The North Carolina-based company posted its first ever quarter of positive earnings per share, and while a single penny per share of net income may not seem cause for celebration, a milestone's a milestone. Revenues fell to $1.7m from $2m, but operating expenses also fell 26% to $1.2m.
Australian slots and game developer Aristocrat is changing its financial reporting dates. CEO Jamie Odell used the company's annual general meeting to declare the new end of its fiscal year to be September 30 rather than December 31. Odell said investors should expect strong net profit growth over the 12 months ending September 30. Aristocrat's latest venture is Myliveonlinecasino.com – the free-play online casino offshoot of the MarylandLive! Casino – which has already attracted some 10k users in its first week of existence.
Las Vegas-based regional casino operator Pinnacle Entertainment posted a net loss of $1m in Q1, despite a 4.6% rise in revenues to $293m. Adjusted earnings were also up, rising to a record $74.6m from $62.6m in Q1 2011. Overall, the results were better than analysts expected. Looking ahead, Pinnacle's $368m hotel-casino in Baton Rouge, Louisiana is set to open by Labor Day. Last month, Pinnacle announced it was acquiring a 75% stake in the Retama Park Racetrack outside San Antonio, Texas for $22.8m. The purchase is seen as a strategic move ahead of an expected push to permit casino gambling in the Lone Star State, similar to Pinnacle's 2010 purchase of the River Downs Racetrack in Cincinnati, Ohio. Pinnacle expects to learn by June whether Ohio will permit VLT gambling at racetracks.
Tropicana Entertainment Inc., which operates three casinos in Nevada, saw Q1 revenues fall to $155.2m from $156.8m in Q1 2011. However, net income fell more dramatically, from a loss of $1.4m in 2011 to a $4.8m loss this year. The company cited an 8.8% fall in slot volumes and 11.6% drop in table volumes for the negative numbers.
Another regional operator, Ameristar Casinos, enjoyed "the best quarterly financial performance in our history," according to CEO Gordon Kanofsky. Ameristar posted a 1.1% rise in revenues to $312.1m and topped the $100m mark in adjusted earnings for the very first time. Net income was $41.4m, a substantial boost from 2011's $21.8m. This last figure benefited enormously from a $15.7m income tax reduction, but Kanofsky also credited the "mild winter weather, highly efficient operations and leap year." What a difference a day makes… On March 14, Ameristar announced it was acquiring Creative Casinos of Louisiana – which is developing a luxury casino resort in Lake Charles, Louisiana – for $32.5m.