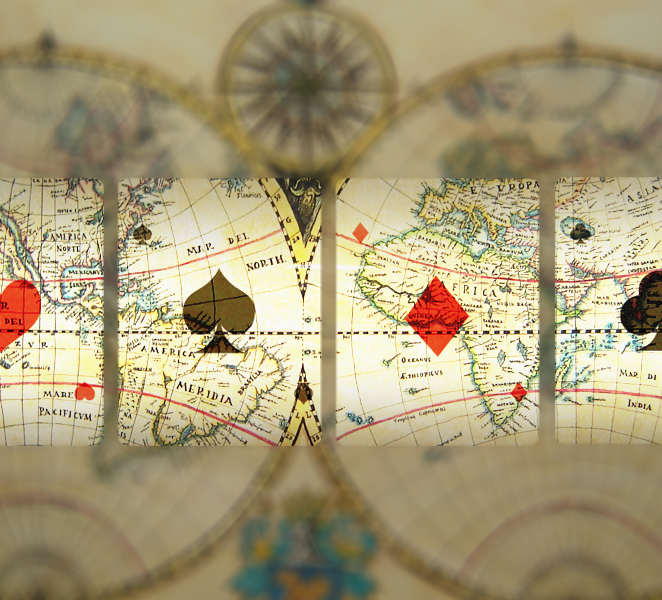 There's no doubt that poker is a uniquely American game. It was invented in America, its most proficient practitioners have historically been Americans, and no nation in the world works more poker analogies and metaphors into its news and entertainment than America. When it comes to the growth of the game, though, there's almost as little doubt that America's time on top is coming to an end.
If the game is to continue to grow in popularity, it's going to have to come from somewhere outside the United States. Most other countries don't have many decades' worth of casino infrastructure built up, which is a disadvantage when it comes to sheer ability to attract participants to poker tournaments. The US won't lose its edge in that category for a very long time, if ever. But poker has begun to take hold in some less traditional markets over the last few years, markets could serve to grow the game globally for the next decade or two if it can make any kind of inroads at all. They're poker's new frontiers.
So far as international markets go, nobody outside of Europe and Australia has responded to the introduction of poker the way Latin America has. Online poker caught on strong within a few years of first being promoted there, especially in Brazil, and has helped produce a wave of successful professional players that have conquered tournaments around the world.
From online poker, it was a natural step to move on to a land-based tour in the Latin American Poker Tour. Now with four seasons in the books, the LAPT has grown in participation every year of its existence and has nurtured growing poker scenes throughout Central and South America. And the participants themselves have cultivated a reputation as more lively and colorful than their counterparts in may other markets. It hasn't all been smooth sailing for the LAPT, though. Some popular tournaments held in one location one year might not return the next year, as the legal landscape for gambling is always shifting. In the case of Mexico, sometimes the landscape actually shifts while a tournament is going on, as it did with an LAPT held there a few years back.
There's still a lot of untapped potential in Latin America. The political situation in most countries there continues to grow more stable, and the population continues to rise. It's also been dominated so far by one poker tour, a situation which could be ripe for change within a few years if the growth continues.
2. Macau
It's glitzier than Las Vegas. It's just hours away from some of the largest cities in the world. It's the next frontier for poker: the Chinese enclave of Macau.
Poker isn't native here, but since it was introduced in Macau's casinos during the 2000s it has taken hold and grown a dedicated audience. A big contributor to the game's popularity has been the presence of two competing poker tours: the PokerStars-backed Asia Pacific Poker Tour, and the independent Asian Poker Tour. Both tours' tournaments in Macau have proven very popular with players from throughout the region as well as around the rest of the world. The side games during the tournaments are known for matching up elite poker luminaries from the West like Tom Dwan and Phil Ivey with rich businessmen from China who want to play against the world's best. These games are rumored to be played for some of the highest stakes in the world – and have also been the subject of some of epic threads on poker forums in recent years.
Macau's poker market is still in its infancy. The differences between poker and traditional Chinese gambling pastimes mean there's no guarantee it will ever really explode in popularity the way it has in some other cultures. But even if it reaches just a small fraction of the potential market, the sheer numbers say that Macau could end up becoming a player in international poker for some time to come.
3. Philippines
The Philippines is never going to compete with places like Macau for glamor points. For a potential poker market, though, it does have some upside. With a population of more than 92 million, poker operators willing to build the game here have a big base to draw from as they take a long approach. And given that the Philippines' history has been so intertwined with the United States', that population has a much closer relationship with American culture than many other Asian countries.
Still, the market in the Philippines right now is all about the long game. When the Asian Poker Tour started running its tournaments there it had to do so with an eye toward increasing the base of poker players in a country where the game isn't native and the population is relatively poor compared to a lot of others. That meant building partnerships with various casino resorts and teaching them how to run their own events, which usually feature smaller buy-ins than for comparable tournaments in some other markets.
The stakes are lower in the Philippines than in some other markets, but companies that put in the right kind of work today could be rewarded down the line.
After spending most of the 20th century in the shadow of centrally planned economies, much of Eastern Europe embraced capitalism in the 1990s and raced to catch up with the West. Casinos were a natural part of the transition, and online poker was a more modern addition. Poker made its way into former Iron Curtain territory like Marlboros, cassette tapes, and blue jeans before it.
Cue the poker boom. It wasn't long after the European Poker Tour began that it was expanding into Poland; then came the Czech Republic, and the floodgates opened to Hungary, the Ukraine, and Estonia. The World Poker Tour also got in on the action, expanding to Slovakia, Slovenia, and Romania. Not only did some of the world's biggest tours come to the players of Eastern Europe, the players hit the road, too. Seeing winners from Russia, Hungary, the Czech Republic, and other Eastern European countries has become commonplace.
Long-term, the biggest problem in some of these countries may end up being that poker has been too successful, too soon. The nation of Hungary made news last year when its largest land-based poker club was raided by authorities twice in six months, as well as when it rolled out legislation banning home poker games and instituting a 20 percent tax on net revenues for all legally licensed online gambling sites. Other countries in Eastern Europe have been quick to change laws in the last few years to take advantage of poker's popularity; it's not hard to see how the same process could end up enabling more punitive laws in different circumstances.
5. South Africa 
With a population of just over 50 million, South Africa is the smallest market I've talked about in this piece. Thanks to its location on the globe, it is also pretty far removed from other regional markets that could bring in more poker players. But even a small population can incubate a poker scene if enough players' imaginations are driven by the game.
Raymond Rahme's third-place finish in the 2007 WSOP Main Event was the catalyst for his country's poker scene to begin growing. Not only was the Piggs Peak Casino player the first South African to make the final table of the world's most prestigious poker tournament, but he was also the first player from the entire continent of Africa to earn that achievement. His success spurred the growth of the All Africa Poker Tournament.
Since Rahme's WSOP run the game has continued to grow slowly but steadily in South Africa. Seven more players have crossed the $500,000 threshold for career tournament earnings, including EPT final tablists, WSOP bracelet runners-up, and several players who have made deep runs in the WSOP Main Event. The world's most established poker brand has also held its own events in South Africa, bringing the WSOP Circuit to Emerald Casino for two events in October 2010 and six events in February 2012. The South African poker market is relatively small, but the WSOP's faith in it speaks volumes about its potential for growth over the long term.