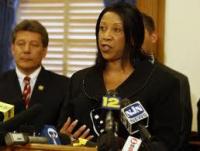 New Jersey's State Assembly speaker Shelia Oliver has announced in a news release today that public hearings on whether casino gaming should be brought to the Meadowlands in Bergen County are planned for sometime this year.
A number of North Jersey legislators are supporting the plan for the hearings, The Press of Atlantic City reports. Legislators are saying that expanding the New Jersey's gambling industry to another part of the state could help galvanize against the repeated losses as gamblers travel across state borders and play in Pennsylvania and New York.
Assemblyman Ruben Ramos, Jr. – who is the chairman of the assembly regulatory oversight and gaming committee – said: "Expanding gaming options to North Jersey would strengthen New Jersey against the competition in border states, which has already lured customers away."
Assembly gaming committee member Ralph Caputo also contributed to the announcement stating that "the reality is that Atlantic City is losing many of its North Jersey customers to newly opened casinos in Pennsylvania and New York… Bringing gaming to the Meadowlands can help us reclaim them and bring back much-needed revenue to North Jersey."
Senate leader Stephen Sweeney responded to the announcement by saying there are no plans for any sort of similar hearings in the senate. "My colleagues and I passed bipartisan legislation to restore Atlantic City's health. I am proud of that accomplishment and believe it will result in great things for the people of Atlantic City and the surrounding area," he said.
He added: "But we are in the early stages of implementing that legislation and revitalizing Atlantic City. We must let that revitalisation happen first before we take any action that would endanger this effort."
Comments