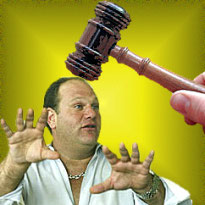 Vegas Inc. reports that a US District judge has dismissed the year-old copyright infringement lawsuit brought against online gambling forum TheRX.com by notorious copyright trolls Righthaven on behalf of Stevo Design Inc. Stevo is run by sports handicapper Steven Budin, a key player in defunct 1990s betting operation SDB Global and author of Bets, Drugs and Rock & Roll, a tepid tell-all that Publishers Weekly characterized as "an abundance of clichés and hubris" that "relies too often on tired phrasing and street-tough posturing." In early 2011, Stevo sued a number of online gambling forums, including SportsBookReview.com, for allegedly reprinting copyrighted material belonging to Stevo.
Since March 2010, Righthaven has filed 276 such suits, mostly against online forums it accused of reprinting (in whole or in part) copyrighted material belonging to Stephens Media, publisher of the Las Vegas Review-Journal and the Denver Post. Stephens Media entered into a partnership with Righthaven in which Stephens assigned ownership of the copyrighted material to Righthaven, who would then file suits against sites without first issuing a request that the infringed material be removed from the site. Instead, Righthaven would immediately demand $150k per infringement and confiscation of the site's domain name, but its true aim was to scare the bejeezus out of the site owners, who would hopefully settle out of court for a few thousand bucks, which Righthaven would split 50/50 with Stephens.
While about 70 sites fell for this dodgy legal shakedown, the scheme began to unravel once courts got a look at the copyright assignment agreements between Stephens and Righthaven. Turns out Stephens had assigned Righthaven only the specific right to sue, which the courts determined was insufficient to allow Righthaven to claim to have sustained any kind of injury. Having found similar wording in the Strategic Alliance Agreement made between Righthaven and Stevo Design, Judge Kent Dawson dismissed Stevo's claims against TheRX on Friday.
Stevo's trademark and copyright infringement suit against SportsBookReview.com owner SBR Marketing Ltd. was also dismissed earlier this week. In that case, US District Judge Larry Hicks ruled that since SBR was based in Costa Rica, "there are no allegations of any direct infringement within the United States." Hicks also noted Stevo's failure to identify a single US-based SBR user who'd posted Stevo's content to SBR. (Stevo's case against SBR was brought by Dickinson Wright PLLC, whose Las Vegas office is staffed by none other than Righthaven's principal attorney Steven Gibson.)
Earlier in the week, SportsBookReview principal SBR John hailed the victory on his site. "Stevo thought we would settle, they thought wrong. Now it's time to pay the piper. Tomorrow SBR company lawyers will be back in court to start a long journey to recoup legal fees and court costs." Fortunately for SBR, Stevo isn't Righthaven, which was basically a shell company without significant assets beyond those flawed copyrights. Righthaven's legal setbacks have resulted in court costs judgments they can't pay, which has led courts to confiscate their copyrights and (in the height of irony) their domain name. As for Stevo, well, Budin better hope book sales pick up, because SBR doesn't sound like they're willing to settle cheap.