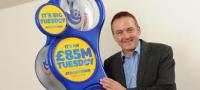 Following news last week that the National Lottery Commission had extended its licence by a further four years – Camelot, the British National Lottery operator, has revealed it will invest millions of pounds into extending its network of outlets in the UK.
The operator released a statement today confirming it would increase the number of outlets by 8,000 in places around the UK where it believes there is the maximum level of demand for its products.
Andy Duncan, managing director of Camelot UK Lotteries, said in the press release: "The decision is good news for National Lottery players, good news for our new retail partners – and good news for society as a whole. With charities and foundations throughout the country anxious about future funding, an extra £1.2bn in National Lottery Good Causes alone over the next 11 years will be life changing to people and communities the length and breadth of the UK."
He continued: "I'm delighted that we've been given the opportunity to raise even more money for National Lottery Good Causes. The extension of our licence makes such a significant expansion of our retail estate economically viable and will allow us to build on our very successful track record as operator of The National Lottery."
The licence extension is estimated to allow the operator to deliver a further £1.7 billion of additional lottery funding by 2023.
In other UK gambling industry news – this time up't north – Casino and entertainment venue Manchester235 has appointed Echo Public Relations following a competitive three-way pitch.
A report by The Drum reveals that Echo will work with Manchester235's in-house marketing and events team to drive overall awareness of the casino with an initial focus on its food and drink offering.
Echo PR director, Anoushka Done, said: "Our job is to make sure they get heard and in short, make 235 famous."