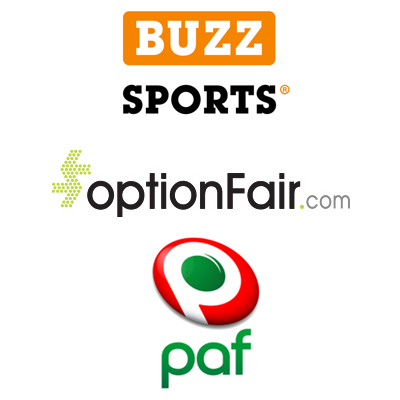 Buzz Sports has signed its latest deal to distribute its ZonePlay product. The revolutionary offering is now available via PlanetWin365 and will allow players to bet on what happens next across three sports. Antonio Papa, Project Manager of PlanetWin365, was clearly happy with how the ZonePlay fits with their own view on the industry, commenting: "We are delighted to have added Zoneplay to our offering. It is a perfect fit for the PlanetWin365 philosophy of sports betting as entertainment."
ZonePlay's current portfolio includes soccer, tennis and cricket with plans to launch baseball and basketball by early 2012. With constantly changing live odds, Ian Williams, Buzz Sport's chief commercial officer, thinks it'll be a big hit with PlanetWin365 players, stating it will "keep customers coming back for more, and increase the stickiness of their website."
Binary trading platform optionFair has signed up with Income Access to offer a number of competitive affiliate rates. Anyone bringing 15 or more traders with them gets an additional $200 on top of the three types of commission on offer – revenue share, cost per acquisition and hybrid. The firm's "unique selling point" is their Touch, No Touch and In/Out Boundary trading. Sounds a bit like the instructions you'd get off your mates ahead of losing the V plates. Shaun Jordan, VP of marketing at the binary trading platform says differently.
"We offer affiliates a variety of payment structures, up to date reporting, full transparency, timely monthly payments, and primarily, a trading platform that gives end users a wider variety of trading options. This in turn functions as a natural retention tool, which gives traders multiple trading options that lead to a significant growth in volume," he said.
Glad we cleared that one up Shaun.
Scandinavian-facing online casino Paf.com handed out its latest bag of cash as one lucky winner walked away with over £5million. €6,864,858 was won on the Net Entertainment designed Mega Fortune progressive jackpot slot by a 30-year-old Helsinki man. The prize, won on January 17th or 18th, got close to the previous jackpot of €11.7million – a world record in the Guinness book. Paf giving away the loot is good news for charities as the company is a sucker for donations.
"This is a very proud moment for everyone at Paf.com and we would like to pass on our congratulations to the winner. We are a gaming company that was established with the sole purpose of generating money for good causes and we have already donated €160million over the years. It's a real honour for us that such a huge jackpot has been won on Paf.com," explained Anders Sims, PR Manager at Paf.com.
Comments