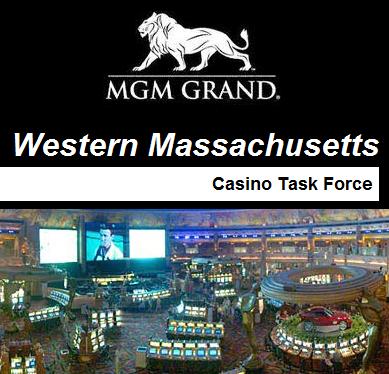 Casino-sensitive members of Western Massachusetts Casino Task Force Committee could be dwindling in numbers after a report revealed only a handful of its supporters showed up at a meeting yesterday – the first since casino gambling became legal in the state.
Nevertheless, Task Force Chairman, Edward Harrison, said he was still pleased with the outcome. MassLive reported he said: "I really wasn't sure where we were going to go from here." Home, perhaps?
Nope. Instead, the small group of casino-loathers sat down and created a list of ways member communities could protect themselves in the catastrophic event of a resort casino project opening in their community. Shock, horror!
Those attending were Harrison, along with Warren Selectman Robert Souza, Brimfield Selectmen Chairwoman Diane M. Panaccione, Brimfield selectmen's assistant Carol M. DelNegro and James M. Mazik, deputy director of the Pioneer Valley Planning Commission.
Feeling threatened by MGM Resorts International because it wants to build a casino in the northwest corner of town – the members drafted check lists in the meeting to discuss at the next gathering in February.  In these lists were factors such as how a community will be impacted by a resort casino and what safety precautions come to mind. "It could be a wealth of knowledge for some towns," Souza said.
Another suggestion in the meeting was that the towns hire consultants to help with the planning of precautions – with some members suggesting MGM pay for them. However, Brimfield resident, Judy Sessler, expressed concern about hiring a consultant too early, and said towns could be left with an "enormous debt" if the casino operators fail to fund these studies. She added: "selectmen are moving too fast."
It's important to remember that Task Forces like this have no power, and in this case, it's all down to the decision of The Gaming Commission. Harrisson pointed out that the Commission will decide what communities are considered "surrounding" and as a result would be eligible to create a memorandum of understanding with the casino operator to mitigate impacts.
"Ultimately the entire power of this thing falls into the hands of the Gaming Commission," Harrison said.
Comments