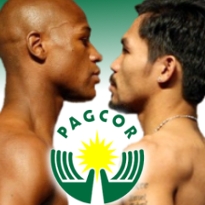 Final revenue figures are in for the Philippine Amusement and Gaming Corporation (Pagcor) and, as predicted last week by CEO Cristino Naguiat Jr., things look pretty damn good. After a record P3.5b (US $80.8m) haul in December, 2011's full-year total amounted to P36.65b ($846m), P5.19b over 2010's figure of P31.46b. Pagcor broke its monthly income record six times in 2011, all of which occurred in the last eight months of the year. However, Naguiat cautioned that 2012 will be "more challenging" in view of "fiercer competition" following the expected opening of casinos at the Entertainment City Manila complex.
Pagcor may be earning the respect of its accountants, but Senator Aquilino Pimentel II isn't singing Pagcor's praises. The Sun Star quoted the Chairman of the Senate's Games and Amusement Committee as saying Pagcor and the Philippine Charity Sweepstakes Office (PCSO) were "useless" at combating illegal gambling. Pimentel said their apparent inability to stamp out illegal gambling activities would require his office to revisit the charters of the two government-owned and -controlled corporations, as well as probing whether the two outfits' earnings were actually being spent on the social programs they're supposed to benefit.
Another Filipino politician, Rep. Manny Pacquiao, is currently embroiled in a public war of words with Floyd Mayweather Jr. over if/when/where their hotly anticipated fight will take place. Pacquiao's camp wants to move the fight to a larger venue, while Mayweather's camp insists that neither the date nor the venue can change. But according to FightSaga.com, a further wrinkle has been thrown into the mix. A group of Detroit businessmen — former boxing great Tommy "Hitman" Hearns among them – have reportedly partnered with a "large Asian hedge fund" to put up a whopping $200m to stage the fight at the Venetian Macau Resort Hotel. Macau has been looking for ways to diversify their customer base beyond the hardcore baccarat crowd, and this would be one hell of a way to start.