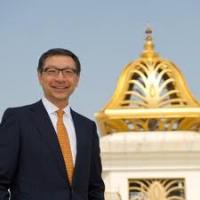 Asian gaming operator, Galaxy Entertainment Group, has voiced that the company has no concerns over the opening of Sands Cotai Central and whether it could hurt performance at Galaxy Macau.
In an interview published by Macau Business, the gaming operator's vice chairman, Francis Lui Yiu Tung, said the government cap on live gaming tables in Macau is needed but he wants an even spread of tables across the city's six gaming operators.
"The number of tables should be more equally spread between the six gaming operators. That way we can compete on a more equal ground," he said.
In the report, he accuses some competitors of wanting "to milk every dollar" from Macau.
Mr Lui also confirms the gaming operator will offer three-star accommodation in the casino to attract more middle-class mainland visitors and look to expand into new Asian markets.
In another Macau Business report, former Marina Bay Sands chief executive officer Thomas Arasi talks about Asian casino resorts and how they rely on gaming for their survival – something that he states is unlikely to change any time soon.
"Gaming is what drives integrated resorts in Asia financially but not operationally," Arasi said.
The report highlights how this notion is the consensus of most industry executives, but also explains how the figures tell the same story. For instance, on the Strip, casinos get over 60% percent of their revenue from non-gaming sources. In Macau it's a totally different story, with non-gaming revenue representing 11% of total revenue, ranging from less than 1% for SJM Holdings to 14.2% for Sands China – that's according to operators' latest financial reports.
Even in Singapore, where gaming revenue is restricted by the government's rejection to license junket operators, non-gaming registers just 22.4% of total revenue.