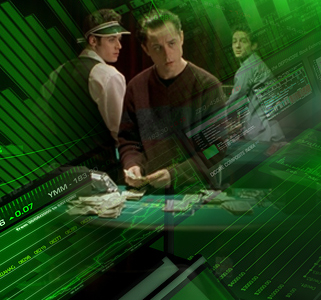 I would like to take a moment to introduce a new weekly column on CalvinAyre.com. The Martin Report with Vince Martin (read Vince's Bio) will look at gambling stocks, what's good, what's bad, where the real value lies and what's just fool's gold.  If you want to see a new feature or column on our site or if you would like to submit an op-ed, please contact me through the Ask or Tell page of our website. – Bill Beatty
The recent Department of Justice opinion that the 1961 Wire Act applies only to sports gambling sent shockwaves through the gaming world. The opinion was made public after the market closed on Friday, December 23rd, as the government tried to bury its stunning about-face as deep into the holiday weekend as possible. But word got out, and when the market re-opened for trading on December 27th,  gaming stocks surged. Boyd Gaming (BYD), MGM Resorts (MGM), and Wynn Resorts (WYNN) – all of whom had created partnerships with online poker operators in preparation for US legalization – jumped 9.8%, 4.6%, and 3.2%, respectively. Lottery terminal maker Scientific Games (SGMS) rose 15%; overseas, Bwin.Party (LSE: BPTY), the owner of PartyPoker, saw its stock climb 30%, while competitor 888 Holdings (LSE: 888), got a 9% boost.
After the initial euphoria, however, few gaming stocks have kept their gains, as the market seemed to develop a more detailed understanding of the impact of the new interpretation. No company better shows how far the market overshot on the DOJ ruling than PokerTek (PTEK). The micro-cap stock rose 14% on the 27th – after being up over 50% intraday – and another 50% on the 28th, with trading volume more than ten times normal. All told in two days, PTEK stock gained some 71%, but there was one small problem: PokerTek had absolutely no connection to online gambling. The tiny company (market capitalization is just $5.5 million) makes PokerPro electronic poker tables, which are designed to be installed in traditional poker rooms. If anything, the legalization of online gambling will hurt the already struggling firm; why would customers drive 45 minutes to use poker software when they could do so in the comfort and privacy of their own bedroom? (You might consider adding showering and dressing time to the driving figure, but those of us who have played live poker know better.) Investors caught on too, and PTEK closed Friday at 74 cents, one cent above its pre-Christmas level.
PTEK was not the only short-term beneficiary of the online poker "gold rush". As mentioned earlier, Boyd Gaming rose some 10% following the DOJ news, based solely on its (minority) stake in a potential online poker partnership with Bwin.party and MGM. Investors again wised up, realizing that a 10% stake in an as-yet non-existent company seemed far less impressive when compared with the company's over $3 billion in debt amassed in building its land-based casinos. BYD closed Friday at 6.95 – the exact level at which it closed before the DOJ announcement, while competitors WYNN and Las Vegas Sands (LVS) have also given back gains each stock made in late December. (LVS' inclusion in the sector-wide gains on the 27th – it rose over 2% – was particularly curious given that its CEO, Sheldon Adelson, has personally come out against online gambling, though the company claims his opinion is not official company policy.)
Some stocks have held their gains from the DOJ announcement. Scientific Games has tacked another 11% increase to its 15% gain on the 27th, and now approaches a new 52-week high. As a leading provider of lottery terminals in the US, the company seems primed to see revenue gains from online lottery sales. The European operators – BPTY and 888 – likewise have continued to gain. But these price movements make sense. Scientific Games is a market leader in the lottery business. In addition, for all the discussion about the amended DOJ opinion affecting online poker and gambling, it's important to remember that the opinion itself was sought out by the states of New York and Illinois for the purpose of selling lottery tickets online, not legalizing any other form of internet gambling. Scientific Games has one major competitor in the US – GTech, now a subsidiary of Italy's Lottomatica – and already supports online gambling platforms through its Sciplay joint venture with Britain's Playtech. Another joint venture (this one with GTech) owns 20% of the management company that handles the lottery for the state of Illinois, one of the two states whose desire for online sales led to the DOJ's amended interpretation of the Wire Act. SGMS has existing customer relationships and the infrastructure to roll out online lottery sales quickly, positioning itself for revenue and earnings growth from these new platforms.
Relative to other forms of online gambling, online lottery sales should be easiest to implement legally going forward; asking a state legislature to move sales of existing lottery products online will require far fewer paper bags filled with unmarked bills less political skill and muscle than, say, legalizing an entirely new realm of gambling such as poker, let alone "banked" card games such as blackjack and its variants. The fact that the profits from US state lotteries go directly to state governments (most often for education spending) should also aid passage. Online gambling – whose profits will likely go indirectly to state governments, through onerous taxation – will be a tougher sell to legislators and the public.
The European operators should have an edge as well. The startup costs for 888 and Bwin.party are essentially nil; both operators already serve customers around the world. Bwin.party had over 1.7 million active customers in the September quarter; 888 added some 442,000 of its own. Moving these existing platforms to US states under brands such as the Wynn (for Bwin.party) or the Rio, home of the World Series of Poker (for 888) will require minimum technical effort. As the US partners do the heavy political lifting, 888 and Bwin.party should, theoretically, see a low-risk, low-investment, high-level return from any US poker and gaming initiatives. In the meantime, both companies are on solid financial footing; BPTY pays a small dividend and is repurchasing shares, while 888 is seeing strong revenue growth and positive cash flow.
The distinction the market has drawn between SGMS, 888, and BPTY versus other gaming stocks is a key, and correct, understanding of the economic impact of the new DOJ decision. Yes, online gambling in the US is projected to be a large market; but when, exactly, will the market actually be legalized? Calvin Ayre predicted on this site that no more than one state would have remote gambling by the end of 2012, noting there were "too many variables and competing interests to expect any nationwide resolution in the short-term." The uncertain legal climate, the pending Barton Bill and the likely flurry of state-specific regulations that will accompany any type of legalization mean that any gaming providers must tread carefully, and slowly, in the US market.
All this is to point out that online gambling in the US will be slower, messier, and most likely less profitable than many anticipated in the wake of the government's U-turn on the 1961 Wire Act. Between high levels of state taxation, continued economic weakness, and the difficulty in marketing state-regulated gaming platforms on a national basis, online gambling will not be a panacea for the US gaming sector. A successful online gambling platform may be accretive to earnings for a company like Wynn, MGM, or Caesars. The ability to market their "bricks and mortar" properties to online players may also help market share in their land-based casinos. (For example, Caesars could extend their Total Rewards program to online players, offering comps in Vegas or to the local Horseshoe, and allowing online play to accrue points toward Platinum or Diamond status.) But investors must wonder whether such marginal improvements can substantially drive the stock prices of behemoths like Wynn ($14 billion market cap) or MGM (valued at $5 billion).
And what of smaller operators? Even Boyd's 10% stake in a potential online gambling outfit seems insufficient to overcome the issues facing its legacy casinos. The company's properties in Las Vegas – both downtown and a series of "locals-focused" properties such as Sam's Towns and the Orleans – are facing serious economic headwinds, given the weakness in Vegas as a tourist destination, and, more pronounced, the weakness in the state and local economy. Its premier property, the Borgata in Atlantic City (in which Boyd holds a 50% stake) is in a market under siege by legalization in surrounding states; by 2015 Atlantic City's total gaming revenue is projected to be half that of 2006. Additional properties in Indiana and Illinois – facing a series of new competitors – and Mississippi and Louisiana – likewise seeing new casino development, and stagnant revenue – seem unlikely to promote growth. Other US-focused operators such as Pinnacle Entertainment (PNK) and Isle of Capri (ISLE) face similar challenges.
Ironically, the furor over the DOJ's reversal overshadowed a key bit of gaming news released on Tuesday. Gaming revenues in Macau finished the year up 42%, with the Macau gaming market now five times larger than that of Las Vegas. (Singapore has surpassed the Strip on a revenue basis as well.) The Macau market is projected to grow another 20% in 2012. And US operators are doing well there. As Barron's noted, MGM and Las Vegas Sands both beat estimates for market share (Wynn matched), and that led to strong gains in all three stocks in Wednesday's trading. (Casino stocks struggled the following two days; it may have been weakness in Vegas gaming revenue or a negative sector-wide research report from Compass Point on Thursday, which assigned "Sell" ratings to both Wynn and Las Vegas Sands.)
Asia is the future of gaming; the $33.5 billion in annual revenue in Macau alone dwarfs any potential impact from online gambling in the US market. The movements in US casino stocks over the past two weeks show that the market has learned that lesson, if a bit belatedly. online gambling would be a fun distraction and an asset for an avid poker player like myself. But it is not going to be a major mover for the share prices of US operators. In short, investors in US casino stocks must give a strong discount any potential future revenues from online gambling. They are too far off, too hard to reach, and have too many competing interests – notably, in governments around the country – to count on.