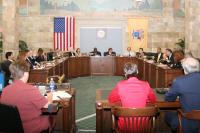 The narrowing gap between the expansion of gambling in New Jersey is leading lawmakers to consider the licensing of betting on horseracing in a number of bars and restaurants in the state.
This Thursday, State Senate and Assembly committees will review the legislation codenamed S3115/A4285 – a bill aimed to create a pilot program where electronic wagering terminals (EWT) can be placed any place where grub and beverages are served.
The executive administrator of the Standardbred Breeders and Owners Association of New Jersey, Leo McNamara, told the Asbury Park Press that the measure would create mini-off-track wagering (OTW) sites, which prospective private managers of state-owned tracks have sought.
He said: "The full-scale OTWs cost about $15 million to develop if you start from scratch, or about half that if an existing site is retrofitted. The new bill in the Legislature would probably mean about a $20,000 to $25,000 investment for a restaurant to set up a couple of kiosks, televisions and terminals."
In November, voters in New Jersey approved a referendum to allow sports betting (if a federal ban is overturned first, that is) at casinos and racetracks. Legislature also approved a bill allowing online gambling but that was prohibited by Gov. Chris Christie. But now, after the US Department of Justice's Christmas bombshell regarding internet gambling, Christie is willing to work with lawmakers on an amended measure. The bar and restaurant measure limits the pilot program to Bergen, Hudson, Essex, Passaic, Union, Morris, Somerset, Hunterdon, Warren and Sussex counties, and northern Middlesex and Ocean counties.