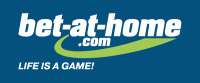 Bet-at-home, one of the four brands that former BetClic Everest, released results for the second quarter that saw revenues increase by 17.1%. The figure rose from €372.97m in 2010 to €437.99m in the same quarter this year. The lack of major sporting events, namely the World Cup, meant that gross profits dropped a little from €17.56m to €16.87m. Bet-at-home is one of those that has a penchant for sport sponsorship across Europe. It ties in with the entire firm, formerly known as Mangas Gaming, which is continually looking at new opportunities in the sponsorship game.
Income Access white-label partner Global Live Casino (GLC) and Skrill are launching a Joint Affiliate Programme to enable affiliates to increase commission earnings. For three months, affiliates can earn up to 30% commission on referral transactions on Skrill as well as standard revenue share of 40% offered by GLC. After the first three months affiliates will still benefit from Skrill transactions but only up to 20%. Daniel Falk, affiliate manager for GLC, said, "We're very excited to offer affiliates the ability to double-up on their commissions through our Joint Affiliate Programme. Skrill is one of the industry's most trusted payment systems, so it was a logical partnership, which we are glad benefits our affiliates as well as us."
Cayetano Gaming has signed a deal that will see Sky Vegas offer the firm's casino games. The games will include roulette, blackjack and a number of slot machines. John Parsonage, Head of Gaming at Sky said: "We are very pleased to be licensing Cayetano's casino games. The company is fast becoming an industry leader in game development. The games show a deep understanding of player dynamics and are developed to the highest standards." The deal will also see Sky able to offer a number of Cayetano's new mobile games in what is an area of heavy growth in the online gaming industry.