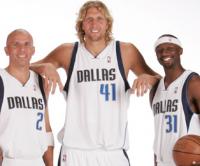 The Oklahoma City Thunder blew out the Memphis Grizzlies in game seven of the Western Conference semi final behind a spirited team performance and dazzling performances by Russell Westbrook and Kevin Durant (39 points and 9 rebs). The Oklahoma City Thunder will now face the Dallas Mavericks in the Western Conference Finals.
The Dallas Mavericks against the Oklahoma City Thunder match-up promises to be one of the most exciting Western Conference Finals in recent memory. It's the old school versus the new school. It's the veterans against the young bucks. It's Dirk Nowitzki and Jason Kidd's quest for an NBA Championship to complete their legacies, and it's Russell Westbrook and Kevin Durant's quest to begin theirs.
It is experience and savvy against youth and exuberant athleticism. This series is everything you've ever wanted to see in the NBA Playoffs.
As far as matchups go, these two teams are very evenly matched. Both teams have solid bench production, but with guys like Harden, Maynor, Collison and Mohamed, the edge has to go OKC. In fact, out of the remaining four teams left in the NBA Playoffs, OKC is by far the deepest.
The Mavericks will likely feel like they are playing against a younger version of themselves. Nowitzki is the un-guardable player that Durant has now become and Jason Kidd must be looking at Russell Westbrook and thinking, "I used to rebound, run the break and bully other point guards just like that."
On paper, the Oklahoma City Thunder are deeper, younger and have just as many weapons as the Mavericks-maybe more.
But the Mavericks have experience.
The Mavericks have leadership, they have veteran players who know how to win. OKC, after going 7 games with a less talented Grizzlies team, has shown they're still figuring that winning part out.
There are those who would take youth and talent over experience, but history has shown that youth doesn't win rings in the NBA. It's no coincidence that this year will be the first time in a decade that Tim Duncan, Shaq, Phil Jackson or Kobe Bryant weren't involved in the NBA Finals.
We may be witnessing the dawn of a new and younger era in the NBA as this year has already seen the youngest MVP in Derrick Rose, but don't tell that to the Mavs.
Dirk Nowitzki and the Mavericks swept the Lakers and they're not about to let the new kids on the block stop their championship run. Can't see this one going less than 7 games, and as fan, you have to root for proven stars and consummate professionals like Jason Kidd, Jason Terry and Dirk Nowitzki to get one more crack at a ring.