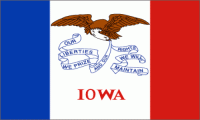 Another miniscule baby-step towards online gaming has been made in Iowa. Iowa's latest bill, after recently being approved by the Senate, saw the House vote 72-21 in favor of the bill that will now be passed to the Governor. It is one of the states that has been driving the country's intrastate gambling bandwagon and the latest news will move it along ever so slightly. More gasoline will be required at the next turnpike though.
The wide-ranging bill includes three main points of interest for the gaming industry. In relation to iGaming, it states that the Iowa Racing and Gaming Commission would study internet gambling and produce a report by December 1. The bill also revives a deal between the state's horse breeders and race tracks over purses and will allow the state to adopt a system of advanced wagering over phone or computer. Now those researchers can really get ready to don their chunky-lensed glasses and fire up those mechanical pencils. Maybe even buy some new supplies!
The president of Delaware's Dover Downs Hotel and Casino has followed up a slightly disappointing set of results by stating that online gaming is where the future lies. Ed Sutor, president and CEO of the resort, told WBOC, "You can turn your head and ignore it, pretend it's not happening and it could hurt you, or you could try and participate. We're out there doing studies. We're looking at it."
It echoes the views of the ownership over at Churchill Downs, Twin Spires, which has also shown an increasing reliance on the online side of their business. With a Nascar and harness racing track on the site it will be interesting to see whether they benDover backwards to succeed online.