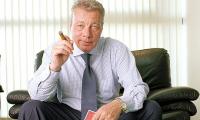 Victor Chandler chose today as the day to announce that they're joining the throng in the mobile app arena with the release of an application designed for both Android and Apple devices.
It will allow users to view their statements, make deposits and withdrawals, and place bets on everything that is usually available online. It's currently only available to download from Victor's website, but they hope to offer it through the Android Market and App Store soon.
This comes after the news we reported earlier today that Android had taken over Symbian as the number one operating system on mobile phones worldwide.
"We are delighted to give our customers using Apple and Android devices the full website experience on their mobile devices. We initially tested the application with a limited number of our clients to make sure we launched the best app in the market," said Turlough Lally, Head of Mobile at Victor Chandler.
In other news, after announcing that they were to launch an online casino site only a few weeks back, WMS has now received the full certification that they were waiting for from GamCare in order to commence the best experience possible for their customers. It relates to the recent launch of their online casino at jackpotparty.com
On presentation of the certification to Brian Morgan at WMS, GamCare Chief Executive Andy McLellan said, "I'm delighted to acknowledge WMS's commitment to social responsibility. As part of the Certification process, GamCare has reviewed jackpotparty.com's customer-facing areas of business, such as age verification and self-exclusion practices, and staff training in social responsibility. This award is in recognition of high levels of social responsibility and player protection."