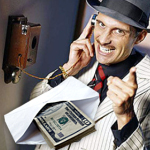 In what the FBI has called its largest coordinated arrest, over 800 federal and state agents detained about 120 reputed mafia members on Thursday. Those charged allegedly belong to seven different East Coast organized crime outfits, and include top members of New York City's infamous 'five families'. While many of those arrested are considered to have ceased their criminal activities years ago, the theory is that if you arrest enough suspects and keep 'em separated, they'll all suspect that the others are cutting deals, and therefore be much more inclined to cut their own deal first.
With reports stating that some of the arrested gangsters were running online gambling operations based in Costa Rica, it's a good bet the US Attorneys in Maryland and New York will like a word with them. Of course, these aren't your typical online gambling operations — these are credit bets phoned in to a guy sitting at a booth in a Brooklyn titty-bar. Costa Rica was simply the place where the data was managed. There was no eCom to speak of, as money was only ever exchanged on a person-to-person basis. These operations would also loan their bettors the money to make wagers – at 200% interest and harsh penalties for missing payments.
The undeniably low-tech, old school approach of such an operation hearkens back to a different era, something out of prohibition's heyday. It's not the only modern parallel that one can make with that failed US experiment at legislating morality. Just as the 18th Amendment caused the legal purveyors of alcohol to close up shop, the UIGEA chased many reputable European operators out of the US online gambling sector. In each case, East Coast gangsters saw a void and determined to fill it. So the net effect of the US action is to take market share away from internationally licensed firms and hand it to the Freddy No-Noses of the world. Nice one.
Alcohol prohibition lasted fourteen years (1919 – 1933). Official online gambling prohibition has only been with us for a little more than four years now. Anybody wanna put up an over/under on when sanity returns to US shores?
Comments