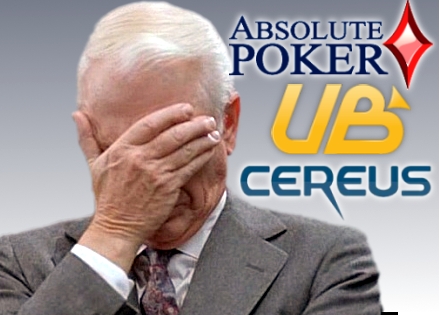 A thread on poker forum 2+2 has unearthed allegations of a new cheating scandal at online poker room Ultimate Bet. Proven or not, the allegation may serve as the final nail in the Cereus Network's coffin and could produce a ripple effect that will negatively impact the entire online gambling industry.
The allegation is the latest bombshell in the ongoing tussle between shareholders of Excapsa Software (the original owners of UB), Tokwiro Enterprises (who acquired UB in 2006 via a company called Blast Off) and Blanca Games (who acquired the Cereus Network – consisting of UB and Absolute Poker — earlier this year).
Blast Off originally paid $10M upfront for Excapsa's assets, with the remainder of the $120M sale price to be paid via installments through 2012. When the Ultimate Bet 'hole card' cheating scandal emerged in 2007, Blast Off began withholding further payments. Subsequent legal arguments over who bore financial responsibility for compensating players who'd been cheated in the scandal have left things at a standstill. Meanwhile, Excapsa's liquidator has expressed concern that Blast Off' is being 'hollowed out' via transfer of assets that would effectively leave the company unable to fulfill its contractual obligations.
The Canadian judge overseeing the liquidation proceedings has agreed to a confidentiality clause, but one tidbit that emerged this past Friday has raised some eyebrows, specifically…
"The Tokwiro Group and its management recently alleged that they are the victims of a "newly discovered" cheating incident dating back to 2004 which caused former Chief Joe Norton to abandon the internet gaming business and has given rise to new alleged claims against Excapsa."
In the document, the liquidator states that it has yet to be provided with any evidence to support such an allegation, but voices concerns that Tokwiro is using this claim as justification to absolve itself of any further financial obligation to Excapsa. Again, true or not, the mere suggestion that there is still more dirty laundry to be revealed would further soil the Cereus Network in the minds of players.
But believe it or not, it gets worse. A separate thread on 2+2 by 'NoahSD' alleges that Absolute Poker's Keno product's random number generator isn't so random after all. There's no clear indication that the customer is being cheated, more a case of there being a predictable pattern that suggests a programming flaw — an embarrassing reminder of the encryption issues uncovered at Cereus earlier this year.