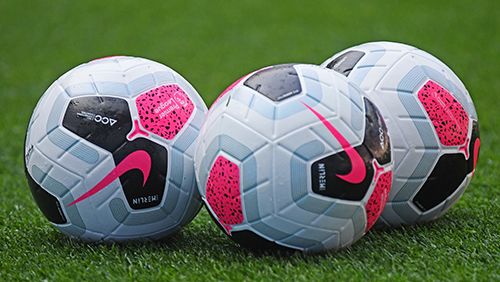 The race to win this season's Premier League title may effectively have been over since Boxing Day 2019, but there are still EPL futures markets to bet on. One of the best is who will be the season's top scorer and win the Golden Boot.
First off, let's look at the ten leading goal scorers and some statistics from their seasons so far.
| | | | | |
| --- | --- | --- | --- | --- |
| Player | Goals | Shots on Target | Minutes Played | Minutes Per Goal |
| Jamie Vardy | 19 | 66% | 2,224 | 117 |
| Pierre-Emerick Aubameyang | 17 | 57% | 2,305 | 136 |
| Mohamed Salah | 16 | 62% | 2,246 | 140 |
| Sergio Aguero | 16 | 52% | 1,401 | 88 |
| Danny Ings | 15 | 59% | 2,006 | 134 |
| Sadio Mane | 14 | 54% | 2,082 | 149 |
| Marcus Rashford | 14 | 58% | 1,881 | 134 |
| Raul Jimenez | 13 | 47% | 2,459 | 189 |
| Tammy Abraham | 13 | 55% | 1,944 | 150 |
| Dominic Calvert-Lewin | 13 | 54% | 1912 | 147 |
The Two Favourites
There are compelling reasons why both the men at the top of the current leaderboard may yet falter late in the race. Jamie Vardy (2/1) has had, by any standards, a superb season for a Premier League striker, scoring 19 goals as Leicester have played their way to 3rd place in the Premier League with play due to resume on June 17th. He is, however, 33 years old and in the twilight of his career and with nine games left to play in a concentrated period of just six weeks, any injury is going to hamper Vardy's run-in. Vardy's conversion rate is incredible, though, with just 117 minutes elapsing between his goals this season.
Just a couple of goals behind Vardy, Pierre-Emerick Aubameyang (3/1) is guaranteed to play virtually every game for Arsenal as Mikel Arteta tries to keep his main man from scarpering in the summer. With less than a year on his contract by the time the season ends, this may well be the Gabonese striker's Premier League swansong, and the former Borussia Dortmund goal-getter will be desperate to end it not just top of the goalscoring charts like last season but out on his own as the best. Aubameyang's 17 goals have taken place with a 57% shots-on-target hit-rate.
Our Pick: Of the two men, Aubameyang is likely to play every game. Go Gabonese at 3/1.
The Chasing Pack
Of the three men in immediate pursuit of those top two, Sergio Aguero (5/1) has the best run-rate of anyone in the Premier League this season, having scored better than a goal per game. One of the Argentinian's shots has found the back of a Premier League net once every 88 minutes, and no-one gets close to that kind of consistency. Aguero has 16 goals so far this season, as does Mo Salah (5/1), who has weighed in with an impressive six assists, is sure to be desperate to fire Liverpool to the title with two more wins.
Dark horse of the three men in hot pursuit of Vardy and Aubameyang is Danny Ings (16/1). The Saints man has 15 goals, but is way behind the others in the running, and we can't figure why. Although his rate of a goal every 134 minutes is worse than the 'Aguero' ideal, so is everybody else's. Ings has scored with more regularity than Salah (a goal every 140 minutes) and is the sole striker at Southampton a lot of the time. Add to that Hassenhuttl has signed a new contract, the squad seem very happy and Ings himself scored most of his goals hot on the back of the break he had last summer and he could yet surprise us all.
Our tip: Danny Ings has everything to play for and must be backed at 16/1.
The Outsiders
There are several players who have an outside chance of catching the leaders if they have a stunning run in front of goal over the next two months, but who is in pole position?
Marcus Rashford (16/1) is likely to hit the ground running for Manchester United, who already showed they can play with excellent professionalism behind closed doors in their last game before lockdown, thrashing LASK 5-0. They travel to Tottenham Hotspur in their first game back, but Rashford will have no fear of arriving in North London due to his excellent previous record there. He also scored both goals as United ended Jose Mourinho's unbeaten run as Spurs manager early in the season.
Other challengers include 14-goal Sadio Mane (14/1), as well as Raul Jimenez (33/1), Dominic Calvert-Lewin (40/1) and Tammy Abraham (50/1), all of whom may get close. Mane's biggest challenge might come from his own teammate in goal-hungry Mo Salah, but of the group, Rashford's likely central role and youth see him as a possible outstanding threat to the Golden Boot prize. While Jimenez, Calvert-Lewin and Abraham are all likely to top score for their sides in the remainder of the season, starting half a dozen behind Vardy just seems like too much ground to make up.
Our tip: Marcus Rashford to get off to a flyer and put pressure on the top two at odds of 16/1.
Whoever wins the Golden Boot this year, it will be an odd achievement, with the winning haul gathered across a split season during which two-thirds of the goals were scored in front of feverish fans screaming the strikers name, and the final batch bagged in front of empty stands stripped of their usual passionate fanbase.
The race for the Golden Boot is sure to be an entertaining one to follow and we'll be front and centre on CalvinAyre.com, with updated features with the latest odds each week as the English Premier League comes to a conclusion.