When it comes time to return to the office after the novel coronavirus pandemic, employees will most likely find a number of differences. Upon entering the building, doors may automatically open so there's no need to touch the handles. Before getting on an elevator, it might be possible to verbally tell it where you're headed, as opposed to pressing the numerous buttons inside. Arriving at the floor, you could stroll into a room loaded with dividers and separated work areas, rather than the packed open floor plan many are accustomed to. Common areas, such as kitchens and meeting rooms, are likely to be equipped with less furniture and more documentation detailing their cleaning schedule. All in the name of providing a safer, healthier work environment.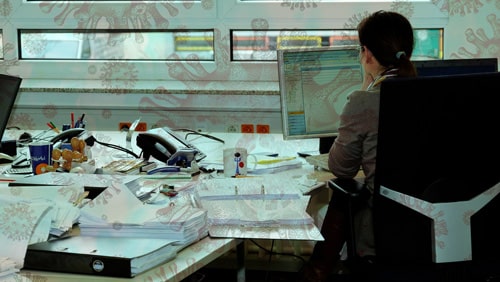 These are only some of the progressions you may see. Less recognizable in the post-coronavirus office would be cleaning schedules that are more frequent, antimicrobial properties woven into textures and materials, amped-up ventilation systems, or even the expansion of UV lights to more deeply sanitize the workplace around evening time.
Obviously, this is all expecting you return to your old office. As the coronavirus negatively affects the economy and the workforce, many won't have occupations to return to. Some who are still employed will most likely telecommute, and a few businesses will decide to cut back their leases or search for adaptable office space instead of long-term rents. Collaborating spaces will most likely never be what they used to be as businesses drop "hot desks" and communal areas for more sanitary, but less profitable, private zones.
A considerable portion of these alterations in office configuration are, in reality, only an indication of a trend that started even before COVID-19. However, in the same way that policies regarding alcohol and telehealth have rapidly changed, the coronavirus pandemic is forcing faster, permanent shifts in work cultures and commercial business operations. Quite likely, the workplace that everyone recognizes today is not going to be the workplace of tomorrow.
As per an MIT report, 34% of Americans who have routinely driven to work report that they are now telecommuting. That is a similar result found in a study being conducted by the University of Chicago, as well. This trend is most likely going to continue, as companies have learned that they can allow telecommuting without a degradation in operations.
These new numbers speak to a seismic move in work culture. Before the pandemic, the quantity of individuals routinely telecommuting stayed in the single digits, with just around 4% of the U.S. workforce telecommuting at any given time. However, the pattern of telecommuting had been picking up energy gradually for quite a long time, as innovation and company cultures began to embrace the practice more often. So, all things considered, a vast number of Americans who are presently telecommuting will continue to work from home after the pandemic.
"When they've done it, they're going to need to proceed," said Kate Lister, leader of counseling firm Global Workplace Analytics, which is as of now running a review about work-from-home cooperation. She predicts that 30 percent of individuals will telecommute different days of the week inside a few years. Lister included that there has been repressed interest by representatives for more prominent work-life adaptability, and that the coronavirus has made their bosses see the light, particularly as they themselves have needed to telecommute.
Steve King, a partner at small-business consulting firm Emergent Research, told media outlet Recode, "[Telecommuting] had been proven prior to this, but a lot of company management and leaders showed great skepticism. That skepticism will go away because companies recognize that remote work does work."
This revelation should come as a comfort to many business. The financial impact of the pandemic is going to compel a large number of businesses to reduce expenses. As they look to cut expenses, dropping office leases becomes an easy target as the companies realize that telecommuting works. Not only that, any organization answering to shareholders or investors is going to find that those backers are going to demand a shift in operational strategies, and the home office environment will be seen as an easy, quick alternative.