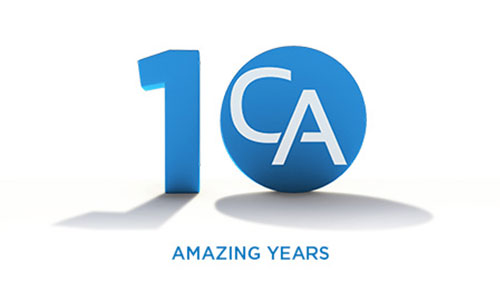 It's been ten years since CalvinAyre.com officially launched, and it feels like only yesterday, and at the same time, it feels like forever. I say forever because of our site's namesake has been such an integral part of the gambling industry's growth since the beginning.
CalvinAyre.com launched ten years ago to coincide with Calvin's birthday, it's true we're all getting older, but I like to think of it as we're maturing.
The transition from tabloid news to serious news to hard-earned respected gambling industry news sources took time. When people would recognize me at gambling conferences, I'd hear, "Hey, you're CalvinAyre.com," I would instructively clinch my body because I didn't know if there would be punch coming after the words.
Thankfully nothing escalated beyond a strong finger in the chest. Now, when I hear "Hey CalvinAyre.com," I'm met with an extended hand and a thank you for an interview done by Becky Liggero or particular analysis of a news item by Steven Stradbroke and of course, effusive praise the big boss Calvin and all that he's done for the gambling industry.
To mark the passage of time, we've revamped our website to give it a fresher look with more focus on the categories. We found that our audience has their favourite subjects they like to follow, so we're making it easier to focus on the categories you want. We've also added two new categories that we hope you find entertaining and informative –Ventures and Life.
The Ventures category is another business category. Rather than talking about business news, we focus on business ideas, investment opportunities, offer tips and tricks to help start-ups get their business off the ground, and we'll look at ways to help established companies run more smoothly.
The Life category, if you are a long-time reader of CalvinAyre.com, you might remember we had a lifestyle section that highlighted out Drinkin', Gamblin' and Carryin' on moniker but as I mentioned we all are maturing. The Life category will still cover events, health and wellness, essential science discoveries and what I think is needed right now, good news.
These categories are for our readers, and we expect them to grow and mature based on what you want to read. If you have ideas for a piece or wish to contribute, please send your pitches to [email protected], and we'll find a place for it.
As we grow, we will be launching two other sections in the coming weeks. We wanted to have them ready for the 10-year relaunch, but we want to make sure they were just right before releasing them.
A Bitcoin for Gambling resource section, we hope will clear up some of the misinformation and offer alternative uses for bitcoin in the gambling industry beyond just payments. Over the past few years, promoters touted Bitcoin as the best solution for gambling; it was a hot topic at all the conferences, but most of the technology promoters failed to offer gambling operators an accurate why and how bitcoin was the best solution for the gambling industry. We aim to make our Bitcoin for Gambling resource section the soup-to-nuts information resource for people in the gambling business to learn why bitcoin is the solution and how to give you the how-to integrate bitcoin into your business.
The next is a revamped gambling resources section. We're updating this section to include clickable links, business contacts and descriptions, which we feel will be far more useful to people working in the gambling industry and companies offering services to the gambling industry.
These will be coming in the next few weeks to a month. To be among the first to know, please sign up for the CalvinAyre.com mailing list, and we'll be sure to let you know when they're available.
On a more personal note, I want to say this has been a very cool ride. I get to work with beautiful people and honestly the coolest boss I've ever had. He's helped me not only on a professional level but on two distinct occasions, Calvin has helped me on a personal level more than I could ever articulate here. Thank you, Calvin Ayre you're the best.
Bill Beatty