Day 1 of the partypoker MILLIONS South America Super High Roller was something of a success at the Punta del Este resort in Uruguay. If you're wondering where that is or what attracted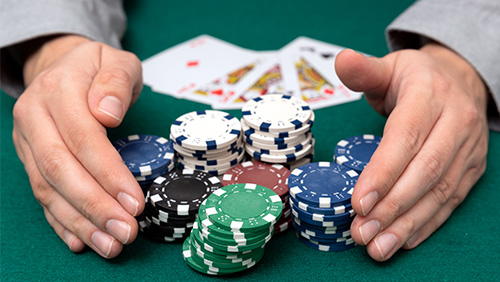 players to the region as well as the money, then you obviously missed our recent preview. For many of the biggest names in poker, however, the Super High Roller was well worth attending, as they face one day of action to see if they can turn their $25,000 entry into a massive $325,000 score.
Day 1 saw some very big names not make the cut into Day 2 by surviving the day. Players such as Fabrizio Gonzalez, Robert Heidorn, Anthony Zinno, Kenny Hallaert and Yuri Dzivielevski all busted during Day 1, but while they floundered, others were making hay.
Only five players will cash in this event, so the fifteen who survived will see only a third of their number make a profit, the min-cash being worth $60,000. Day 1's chip leader was Marty Mathis, who closed out the day having quadrupled his starting stack of a million chips at blinds of 2,500/5,000. Mathis was in fine form all day, and was very closely followed by his nearest challenger when the chips were bagged up, with James Romero totaling 4,300,000.
Another player to enjoy great success at the tables on Day 1 was Scotland's most successful tournament poker player of all time, Niall Farrell. In one crucial hand, he raised it up with the queen-nine of spades only to see a three-bet from Antonio Martinac, who had pocket kings.
Farrell could have no certainty about the monster he was facing, however, and when the flop came ten-ten three with two spades Farrell checked to Martinac. With a massive overpair, Martinac c-bet for two-thirds of the pot, but a big raise from Farrell got a vital lay-down. With a shot clock being employed in the tournament, Martinac eventually folded and 'Firaldo' was delighted to share his end-of-day chip-stack with his fans on Twitter later that evening.
3.6m bagged, back to 80k bb tomorrow. 15 left, 2.3m avg and 5 paid. Vamos.

— Niall Farrell (@Firaldo87poker) February 11, 2020
It wasn't just Farrell bagging up as a big name, with German High Roller Rainer Kempe fourth in the standings overnight, sat behind 3,205,000 chips at the end of the day. Another big name taking part was partypoker's own Joao Simao, who got involved in a big pot when he too was up against pocket kings, this time belonging to Freek Scholten. Simao had jack-three, and when he raised and Scholten only called, the flop of ace-jack-three was always going to be trouble.
Scholten check-called Simao's flop bet, then did the same for more chips on the turn of the four of spades. The river was the two of clubs and this time, Scholten check-called for his entire stack, calling Simao's shove and being shown the awful news that not only had he lost, but that it wasn't even an ace that had spiked his tyres and halted his run.
With huge names still in contention such as Dzmitry Urbanovich (2,675,000 chips) and players like Simao ending with above starting stack looking to improve – Simao has 1,395,000 with which to attack Day 2 – the blinds return at 40,000/80,000 and will see the money bubble reached fairly soon. Who'll win the $325,000 is anyone's guess, however. What is for sure is that there will be some very big names at the final table, and if you're a PokerGO subscriber, then you'll be able to watch it all happen on the delayed-live stream.
Partypoker MILLIONS South America Day 1 chipcounts:
| | | |
| --- | --- | --- |
| Position | Player | Chips |
| 1st | Marty Mathis | 4,315,000 |
| 2nd | James Romero | 4,300,000 |
| 3rd | Niall Farrell | 3,600,000 |
| 4th | Rainer Kempe | 3,205,000 |
| 5th | Dzmitry Urbanovich | 2,675,000 |
| 6th | Luis Peluso | 2,450,000 |
| 7th | Jacob Daniels | 2,260,000 |
| 8th | Francisco Benitez | 2,100,000 |
| 9th | Leo Fernandez | 1,620,000 |
| 10th | Jack Sinclair | 1,585,000 |