Since signing as the principal partner of Reading FC in June 2019, Casumo has leveraged the collaboration for the good of the team, the fans and the wider community. In addition to dedicating more than half of its messaging to responsible gambling, the company has worked with Reading FC to support special events such as Remembrance Day and the Rainbow Laces Campaign. Additionally, fans won't need to worry about making their way to the Madejski on Boxing Day as Casumo is providing a full matchday bus service to all Royals supporters.
Promoting Responsible Gambling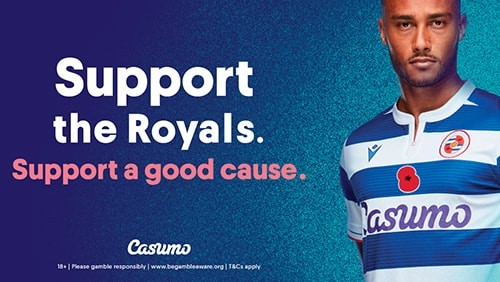 Throughout the season, 50% of Casumo's posters around the stadium and programme adverts have been dedicated to spreading awareness of responsible gambling. The remaining space is used for brand-led communications that show support for the team.
Casumo focused all messaging at the December 7th match on Casumo Cares.  Casumocares.com is a website where players, their friends and families and anyone else who may be affected by potential problem gambling can find advice, support and guidance. During the game, Reading FC players carried the symbol of Casumo Cares on the front of their shirts and a centre circle mat further conveyed the message. This was then supported by all of the LEDs, programme adverts and posters across the stadium, as well as messaging on social media. The shirt was auctioned off and a total of £3,106 was raised and donated to GamCare's BigDeal Programme.
Donating on Remembrance Day
When Reading FC organised an auction in support of the Royal British Legion for its November 9th game, Casumo supported the effort with unique artwork for its posters across the stadium and its messaging on social media. The company matched the total money raised and donated  £6,317 to GamCare's BigDeal Programme.
Mike Kenward, Development Director at GamCare, says: "This donation towards our important work with young people is very much appreciated. Our BigDeal programme gives young people the facts about gambling so that they can go on to make safe and informed choices about gambling should they choose to participate in the future."
Supporting the LGBT Community
For the live broadcast of the November 26th game, Casumo changed their front-of-shirt logo in support of the Rainbow Laces campaign and donated their shirts to the local LGBT charity, Support U.
"With Reading FC, we wanted to use the sponsorship platform as a way of bringing our brand values to life, in support of a team and community that we care about," says Greg Tatton-Brown, Country Manager at Casumo UK.
"It's commendable to see a gambling brand using a sponsorship for good causes. I hope that others will follow suit to drive positive change for the gambling industry. We're thrilled to be partnered with Casumo in all its efforts to support our team, its fans and the Reading community." says Nigel Howe, Chief Executive at Reading Football Club Ltd