An entertaining weekend at the World Series of Poker Europe in Rozvadov saw Phil Hellmuth come close to yet more glory and Tomas Fara win from nowhere as the WSOPE continued to throw up surprises on the border between the Czech Republic and Germany.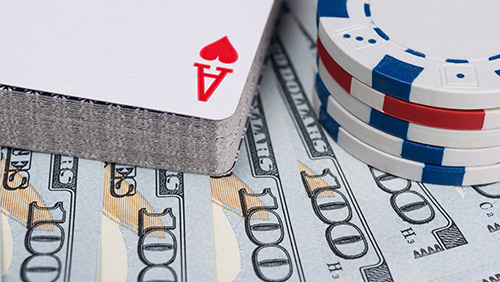 With Phil Hellmuth already the world record holder for WSOP bracelet victories with 15 titles to his name, the man known as the 'Poker Brat' almost had another piece of gold jewellery around his wrist at the weekend, coming close to glory yet again in Rozvadov.
Finishing third in the €2,500-entry 8-Game Mix event, Hellmuth saw the relatively unknown Norwegian player Espen Sandvik claim his debut World Series of Poker bracelet after triumphing in the 71-person event.
It wasn't just Sandvik's first-ever WSOP win, but his first cash in the series too, and it will live long in his memory due to that. All the attention was on Hellmuth, all the talk was of '#16' with three players left, only for Hellmuth to lose out just before the heads-up that decided the tournament.
In truth, while the headlines, sub-headers and pull quotes have been like moths to Hellmuth's flame, Sandvik dominated much of the final day in the event, leading from far out, and at quite a distance to canter home.
With six players remaining, Sandvik had more than a third of the chips in play. He never let go of the lead at the table from that point until the moment the flashbulbs were going off celebrating his win, and after busting Jochen Kaiser in sixth place, he was even more powerful.
Sandvik delivered Thomer Pidun in 5th place, then hit a flush to bust Jeff Madsen in fourth. Sandvik set his sights on Big Phil, eliminating the living poker legend in triple draw to make himself a huge favourite heads-up. Ville Haavisto came into heads-up with just 183,000 chips, while Sandvik could have lit a cigar and left it in charge of proceedings for a few orbits, sat behind 3.3 million chips as he was.
Just one more hand of triple draw, and the title – and bracelet – belonged to the Norwegian.
8-Game Mix Event final table results:
| | | |
| --- | --- | --- |
| Place | Player | Prize |
| 1 | Espen Sandvik | $83,723 |
| 2 | Ville Haavisto | $51,740 |
| 3 | Phil Hellmuth | $34,474 |
| 4 | Jeff Madsen | $23,738 |
| 5 | Thomer Pidun | $16,911 |
| 6 | Jochen Kaiser | $12,479 |
Fara wins from a chip and chair
In 1982, Jack 'Treetop' Straus won the WSOP Main Event having been down to just a single chip. Forget that the chip was under a napkin, and possibly should have seen the tournament director called into action. Straus won it, and ever since then, the phrase 'a chip and a chair' has been over-used in describing short-stacks, and their attendant comebacks from improbable positions to win poker tournaments.
Well, just like that annoying Back to the Future meme that declared 'Where's my Hoverboard?' long before the actual relevant date – October 1st, 2015 – was reached, Tomas Fara has either laid that particular poker trope to rest or reignited it for the next 37 years by literally winning from a single chip – and without a napkin in sight.
It took 13 hours of poker for Fara to produce his own 'chip and a chair' moment in Event #7, the €1,100-entry Turbo Bounty Hunter event at King's Casino. The event was very popular with 377 players taking part including former WSOP Main Event champions Ryan Riess and Chris Ferguson, online crusher Viktor Blom and WSOP Player of the Year challengers Daniel Negreanu and Ismael Bojang all participating but falling short of the money.
While current POTY front-runner Shaun Deeb busted in an unlucky 13th place, that was plenty of points for him to overtake Robert Campbell at the top of the leaderboard in one of the closest Player of the Year battles in recent years.
Once at the final table, Fara took a huge hit to his chances, losing all-in with ace-king against Manig Loeser's ace-queen after the stacks were committed and a queen hit the flop. But that single chip saw Fara fight back into contention from nowhere, his pocket fours hitting against pocket tens, then hitting again with 10-6 triumphing over Anson Tsang's pocket eights.
Tsang busted in the ensuing melee, before Fara won a coinflip with fives against David Elyashar's king-ten to send play three-handed. Loeser was still in the mix, and Fara sealed a remarkable revenge elimination after the stacks yo-yo'ed between the three remaining players until Loeser's queen-jack proved just that against Fara's ace-deuce.
Suddenly, having been on the brink of leaving his seat, Fara had chips and was heads-up for the win. In true Turbo Bounty fashion, he would make a quick kill in the duel, utilising his 3:1 chip advantage to secure the victory – and the WSOP bracelet – in five hands of heads-up play.
Fara moved all-in with king-queen and Bosnian player Nisad Muratovic called it off with 10-8. There were no matching cards for Muratovic on the board and Fara had the sensational victory his years of dedication to the world of live poker have earned. The colourful character with the beaming smile takes the 'chip and a chair' baton and will feel as tall as a Treetop tonight.
Event #7 Turbo Bounty Hunter Event final table results:
| | | | |
| --- | --- | --- | --- |
| Place | Player | Country | Prize |
| 1 | Tomas Fara | Czech Republic | € 59,904 |
| 2 | Nisad Muratovic | Bosnia | € 37,004 |
| 3 | Manig Loeser | Germany | € 24,949 |
| 4 | David Elyashar | Israel | € 17,172 |
| 5 | Anson Tsang | Hong Kong | € 12,071 |
| 6 | Arturs Scerbaks | Latvia | € 8,670 |
| 7 | Phil Hui | United States | € 6,366 |
| 8 | Julian Selinger | Germany | € 4,781 |
| 9 | Giorgiy Skhulukhiya | Russia | € 3,674 |
Comments