We are so excited to announce that we are nominated at the SBC Awards 2019 in three different categories: CampeonBet, our award-winning casino brand, for Casino Operator of the Year, SvenBet, our new casino brand, for Rising Star in Casino and Campeón Gaming Partners for Best Affiliate Programme (Sports & Casino)!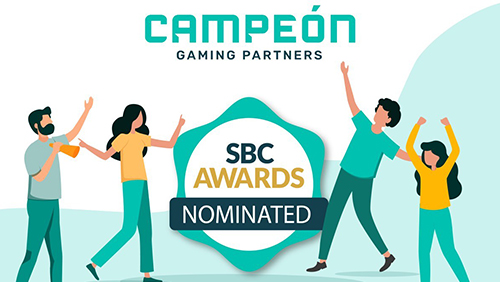 This is the first time that Campeón Gaming Partners is nominated at the SBC Awards and we couldn't feel more honoured about it. The SBC Awards have been recognizing the achievements of operators, affiliates and suppliers across the industry for the past five years; now, in their sixth year, the SBC Awards have been established as leading in the gaming industry, adding value to the nominated and winning brands.
"We place the player at the center of everything we do; I think this is key to us and the reason why we are shortlisted for the awards, next to long-time industry leaders. Campeón Gaming Partners is making its way to the top and this is where we are aiming at", said our Co-Founder and COO, Avraam Tosounidis.
"At Campeón Gaming Partners we are very proud of these nominations, as it is a recognition of our hard work and effort. We are a relatively new company, which has managed to achieve so many things in so little time, because of our mindset, unique operating model, and, above all, our people. We would like to thank SBC as well for this honour", Marinos Shiapanis, our Co-Founder and CMO, stated.
We will stay focused on delivering the best gaming experience, building trustworthy partnerships and offering excellent customer service, aiming at becoming leaders in the gaming industry.
Stay tuned for the SBC Awards 2019 results in December! See you in London!