Every poker player will be put to the test in a tournament eventually. Down to '15 bigs', they'll double-up, or will he be on the rail? There are no re-entries in this fact-finding freezeout.
Moorman now spends the majority of his time living in what locals affectionately call 'La La Land', a.k.a. Los Angeles, with his wife Katie. Moorman does, however, miss one thing about British life.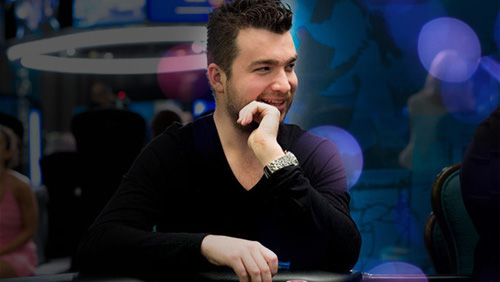 If you were to be shot at dawn, what would be your last meal / drink?
My Mums roast dinner. I crave it so much and only get it a few times a year when I go back home.
You're on a long-haul flight and can only choose one TV Show or movie to watch on repeat, which is your pick?
The U.K. comedy classic Peep Show starring Vicky Coren-Mitchell's husband David Mitchell. Never get tired of that show. 
Stranded on a desert island, you have one book for company until you are rescued. What is it?
A famous sports person's bio that I haven't read yet, but I guess it better be a long one.
What's the song you could listen to on repeat forever?
Easy! Bohemian Rhapsody. There are just so many levels to it and it's a great song for all moods plus it's over six minutes long, so I wouldn't get sick of it.
What's your favourite place to play poker and why?
The Crown Casino in Melbourne – the Aussie Millions is one of my favourite events in the world and I wish I got to play it more often but it's just so damn far.
Where's your favourite non-poker holiday destination?
I think it would be somewhere I haven't been yet such as Japan – hopefully I can fix that in the next year though.
You can play poker every day for a year or play no poker for a whole 12 months – which do you choose?
No contest – play every day of course!
Who is the person you don't have around anymore that you miss the most?
One of my good friends who actually taught me tournament poker Paul Foltyn. I saw him for the first time in over four years the other day and really want to make sure it never ends up being that long again as it was so good to catch up. We live such different lives now a long way away from one another, so it can make it hard at times to stay in close contact.
Which person would you most like to meet but never have?
Ian Wright, ex-Gunner and England football striker who comes across as a massive legend in all the podcasts I listen to him in.
When's the last time life put you on tilt?
A recent long trans-Atlantic travel day which can get stressful when you're short on sleep and are getting delays left, right and centre.
You can't play it yourself… so which family member do you trust with your $10k WSOP Main Event entry?
My wife Katie. She's been crushing and is due a big one, so you never know.
What's your best poker skill?
My gut instincts even if they seem illogical, sometimes I need to learn to listen to them more.
And your biggest leak?
Being too hard on myself when things don't go my way, which is often inevitably the way tournament poker works.
If you became the world's first global president what would be your first unbreakable rule?
I'd make it impossible to kill people if I could.
You have 10 seconds with the person of your dreams… what do you say? 
I'd probably make a joke to lighten the mood! 
There you have it. You might never look at Chris Moorman on screen the same way again, and if you see him out, buy him a roast dinner. If you haven't read his latest book, Moorman: The Inside Story of the Most Successful Online Poker Player of All Time, then you're missing out. Add it to your Christmas List today.