The man who won a record five PokerStars World Championship of Online Poker (WCOOP) titles in September, Denis Strebkov, wins his first bracelet in Event #88: $3,000 H.O.R.S.E.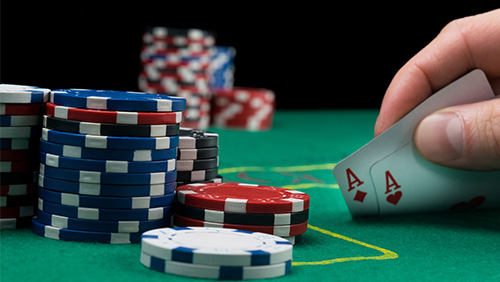 There's been a tipping point in Denis Strebkov's life. The accumulation of years of blood, sweat and conquering fears? Age? Harmonious relationships? A Gandalf like mentor?
In the Autumn, Strebkov (playing under the pseudonym "aDrENalin710" won an unprecedented five PokerStars World Championship of Online Poker (WCOOP) titles in a single week. What made the achievement more impressive than killing someone with a water pistol was his ability to win throughout a wide variety of formats.
Fast forward to the 50th Anniversary World Series of Poker (WSOP) and Strebkov arrived in Las Vegas with the dried blood of WCOOP scalps still beneath his fingernails, a joyous air, and a peacock strut.
The Russian star cashed in seven events (his first at a WSOP), making final tables in the $10,000 Pot-Limit Omaha Hi-Lo 8-or-Better Championships (4th), and the $2,500 Mixed Omaha Hi-Lo 8-or-Better, Seven Card Stud Hi-Lo 8-or-Better (3rd).
With only one mixed game event left on the schedule—Event #87: $3,000 H.O.R.S.E.—it seemed that the WCOOP record holder would have to wait until World Series of Poker Europe (WSOPE) for another shot at gold.
Then he went and won it.
After rescheduling his flight, Strebkov took down a field of 301 entrants to win the final mixed game of the series, and he did so after overcoming a final table dripping with quality.
Paul Volpe is a three-time bracelet winner, Jim Collopy has one, as does Andrey Zaichenko. Konstantin Puchkov won the $1,500 version of this event in 2010, and the four-time bracelet winner, Brian Hastings, won this title last year.
But it was the Paul Tedeschi who troubled Strebkov the most. Despite never winning a bracelet, but it's been a thrilling 10 months for the Frenchman. Tedeschi finished fourth in the $25,500 No-Limit Hold'em MILLIONS World for $700,000, and 12th in the $5,300 Caribbean Poker Party Main Event for $85,000.
The pair began heads-up with evenish stacks and exchanged the lead several times before Strebkov created daylight in the following hand of Stud.
Tedeschi had the bring-in, and Strebkov completed. Tedeschi put in a raise, and Strebkov called. Tedeschi continued to power through with bets on the fourth and fifth street, before slowing down on the sixth street when he called a bet from Strebkov. On the final street, Strebkov bet again, and after some time in the tank, Tedeschi made the call. Strebkov showed a two-pair hand, and Tedeschi mucked.
The Russian never lost the chip lead after that and put Tedeschi on life support after the following hand of Stud Hi-Lo.
Tedeschi had the bring-in, and Strebkov completed. Tedeschi called and then bet on the fourth street, and Strebkov raised. Tedeschi called, and then bet again on the fifth street, and once again Strebkov raised. This time, Tedeschi re-raised, Strebkov raised again, Tedeschi did likewise, and Strebkov called. Tedeschi then bet on the sixth and seventh street, and Strebkov called each time. Tedeschi showed aces-up, but Strebkov showed trip sixes.
Strebkov – 5,830,000
Tedeschi – 190,000
Tedeschi then doubled in a hand of Stud Hi-Lo, before Strebkov got him in a hand of Hold'em.
Tedeschi raised, and Strebkov called. The dealer planted the Th7s2h into the felt, and the pair got it in. Tedeschi was ahead with Qs2d for a pair, and Strebkov had 5h4h for the flush draw. The Ah left Tedeschi drawing dead on the turn, and Strebkov was declared the champion.
Final table results
1. Denis Strebkov – $206,173
2. Paul Tedeschi – $127,419
3. Nick Guagenti – $85,265
4. Brian Hastings – $58,359
5. Andrey Zaichenko – $40,876
6. Konstantin Puchkov – $29,316
7. Jim Collopy – $21,540
8. Paul Volpe – $16,224
Three other stars of the game with soiled paper napkins in this one were Patrick Leonard (11th), Adam Owen (15th) and Lee Markholt (18th).