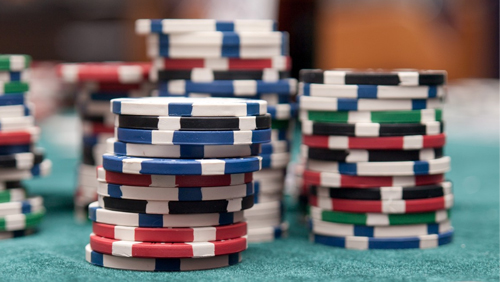 We are reviewing Day 5 of the World Series of Poker Main Event with Sam Greenwood, Antonio Esfandiari and Alex Foxen all with a shout of winning the $10m first prize.
Day 5 of the World Series of Poker (WSOP) Main Event has concluded, and the sight of Sam Greenwood sitting second in chips will be as welcoming as a double-glazing salesman.
Greenwood has won $2m+ playing live tournaments annually since 2015, and $5m+ last year, and this. The Canadian is a beast—if he had joined the Royal Canadian Air Force, he would have been 'Maverick', if he were a dog—a Golden Retriever, and a food item—mustard.
Day 5 began with 354 remaining from 8,569, and only 106 are left, and when you have the experience, photographic memory, and brilliance of Greenwood, it's going to take a vicar of some standing to exorcise this competition of his winning form.
Greenwood sits ominously in second place on the chip counts. Ahead of him is Timothy Su. Playing the Main Event for the first time, Su bagged 7m+ more chips than Greenwood, after winning two crushing hands against Brian Yoon (AA>KK), and Yulian Bogdanov, the latter, described below.
With blinds at 40k/80k/80k, Su opened to 175,000 from the button, and only Bogdanov called from the small blind. The flop fell AdKh7c, and Bogdanov check-called a 200,000 Su c-bet. The turn card was the wet looking Th, and the same action ensued for 475,000. The river card was the 6c, Bogdanov checked, Su bet 900,000, Bogdanov check-raised jammed for 3,295,000, and Su made the call after tanking for several minutes. Bogdanov showed KdJc for a pair of kings, and Su showed Ks7d for two-pair and the best hand.
All the remaining players are guaranteed $59,295, and we hit the next pay jump of $69,636 with 99 players remaining.
Talented players left in the competition with the savvy to compete with the likes of Su and Greenwood are:
Andy Hwang (8,660,000)
Florian Duta (8,550,000)
Hossein Ensan (7,100,000)
Antonio Esfandiari (6,630,000)
Chris Hunichen (6,280,000)
Gabe Patgorski (5,545,000)
Alex Foxen (2,655,000)
Jeff Madsen (1,795,000)
Mukul Pahuja (1,560,000)
Jake Schindler (1,390,000)
Preben Stokkan (1,100,000)
Dario Sammartino (860,000)
Of the players we covered yesterday, all of them fell by the wayside except Stokkan, Hunichen, Schindler and Sammartino. Daniel Hachem son of Joe Hachem keeps the hopes of the fairytale story intact, bagging 6,765,000.
Top 10 chip counts
1. Timothy Su – 19,235,000
2. Sam Greenwood – 11,950,000
3. Duey Doung – 11,765,000
4. Warwick Mirzikinian – 11,430,000
5. Luke Graham – 11,280,000
6. Nicholas Marchington – 10,835,000
7. Milos Skrbic – 10,715,000
8. Romain Lewis – 10,600,000
9. Laurids Nielsen – 9,955,000
10. Ian Pelz – 9,635,000
Payouts
1. $10m
2. $6m
3. $4m
4. $3m
5. $2.2m
6. $1.85m
7. $1.525m
8. $1.25m
9. $1m​