Anthony Zinno wins his second World Series of Poker bracelet in Event #60: $1,500 Pot-Limit Omaha Hi-Lo 8 or Better, and Joe Foresman cashes for the first time in a poker tournament while taking down Event #60: $1,500 Pot-Limit Omaha Hi-Lo 8 or Better.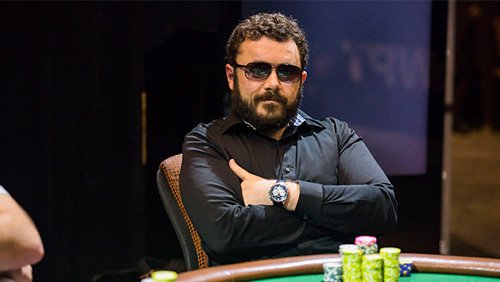 Fortune tellers in Downtown Las Vegas are in harmony—Anthony Zinno will one day become a World Series of Poker (WSOP) Player of the Year.
It may be sooner than they think after Zinno found a stepladder big enough to climb on top of a field of 1,117-entrants in Event #60: $1,500 Pot-Limit Omaha Hi-Lo 8 or Better.
It's Zinno's seventh cash of the summer, and his third final table after finishing runner up to Eli Elezra in the $1,500 Seven Card Stud, and third in the $1,000 No-Limit Hold'em Tag Team (partnered by John Hinds). It's his second bracelet after winning the $25,000 Pot-Limit Omaha High Roller for $1.1m in 2015.
"The first bracelet is the one that obviously is the life-changing one for any poker player.," Zinno told PokerNews after his win. "I wish I could say I feel the same way, but there is no way to feel that same bliss that the first one brings."
It may not have the same pizzazz as his first bracelet, but it was satisfying nonetheless after Zinno told PokerNews he had been practising his Omaha Hi-Lo game for the past two years and was excited to play this specific event.
Zinno also told the media that the 2019 WSOP grind had been his most significant effort since 2007, reflected in his #6 position in those WSOP Player of the Year rankings.
It was a final table filled with No-Limit Hold'em superstars who showed they are equally adept at playing the four-card supernova with Jon Turner (4th), Connor Drinan (7th) and Erik Seidel (9th) all involved in the last stand.
Zinno beat Rodney Burt, heads-up, to win the title. The former World Poker Tour (WPT) Player of the Year began with a 16m v 12m chip lead and won the bracelet after this critical pot.
With blinds at 300k/600k, Burt opened to 1.5m from the small blind, and Zinno made the call. The flop of KsJd4c landed on the deck with a crunch and both players checked. The turn card was the 8s, Zinno bet 3m, and Burt called. The river card was the Ac, Zinno bet pot, and Burt quickly called. Zinno showed KdQs5d3s, Burt showed Th9s6d2s, and Zinno scooped to take a 24m v 4m lead. Burt never recovered, and Zinno sent him packing within two hands after flopping trip sixes on a board containing no low.
Final table results
1. Anthony Zinno – $279,920
2. Rodney Burt – $172,932
3. Thomas Schropfer – $122,555
4. Jon Turner – $87,967
5. Scott Abrams – $63,961
6. Jordan Spurlin – $47,118
7. Connor Drinan – $35,173
8. Kyle Miaso – $26,611
9. Erik Seidel – $20,410
Three other players who went deeper than a 14mm x 1400mm ASSY screw included recent bracelet winner Ari Engel (10th), WSOP Player of the Year front-runner, Scott Clements (14th), and everyone's favourite poker player, Phil Laak (26th).
Joe Foresman wins Event #59: $600 No-Limit Hold'em Deepstack Championship
We're moving on from a man who has won nine tournaments, two WSOP bracelets, and three WPT Main Events to someone cashing in a poker tournament for the first time in Joe Foresman.
Foresman took down Event #59: $600 No-Limit Hold'em Deepstack Championship after outlasting an enormous field of 6,140-entrants.
It's only the second time Foresman has played in a bracelet event (the other time in Binions), and it shows how these $600 buy-in events can make dreams come true with Foresman walking away with $397,903 and a $10,000 seat into the WSOP Main Event, the first time he has cashed in a tournament in 15 years!
Foresman conquered a final table that housed the experienced Jeff Hakim, and bracelet winner, Will Givens. When asked about his run, Foresman told PokerNews that he had gotten 'lucky' to win the bracelet, and in the final hand of the competition, Foresman's pocket fours struck a set on the flop against the pocket tens of Givens.
"It was meant for him, there was nothing I could do," said Givens once the final river card had ended the tournament.
Final table results
1. Joe Foresman – $397,903*
2. Will Givens – $245,606
3. Steffen Logen – $181,953
4. Jeff Hakim – $135,783
5. Gleb Kovtunov – $102,077
6. Mrityunjay Jha – $77,308
7. David Goodman – $58,988
8. Jean-Francois Alexandre – $45,348
9. Linda Huard – $35,128
* Also wins a $10,000 WSOP Main Event Seat