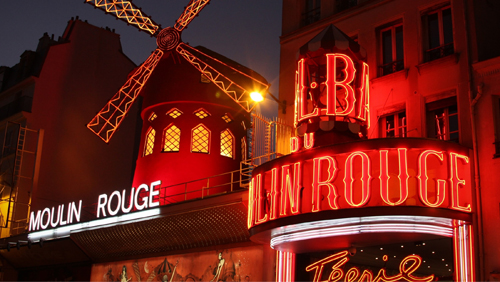 The historic site of the Moulin Rouge casino doesn't look like much more than an abandoned lot on most days, but several groups are considering buying the property now. Just in the past week, the Southern Nevada Regional Housing Authority and the Nevada Restaurant Services have both shown an interest in renovating the site.
The Moulin Rouge was only open for five months in 1955, but in that short time it made history. It was the first casino in Las Vegas to desegregate, allowing white and black customers to mingle. That was a big deal, because while other resorts would allow black entertainers to perform, they had to leave the building immediately once the performance was done.
What makes the Moulin Rouge site special nowadays is that it has never given up its unlimited gambling license. To maintain its legal ability to host a gambling site, every two years, it plays host to a trailer sized casino. As a result, if anyone were to buy the property, they'd already have a gambling license to work with.
Las Vegas Now has reported previously that Nevada Restaurant Services, the operator of popular bar chain Dotty's, has expressed an interest in buying the site. That got the Las Vegas officials immediately excited, as previous owners of the site have allowed it to deteriorate badly. Katherine Duncan of the Chamber of Commerce said, "We don't have any casino owners in the west side. So, shift bosses, managers, all of those high level jobs that are happening in the industry are not held by our people"
City councilman Cedric Crear also celebrated the news, noting that the bar operator had a good reputation and deep pockets to improve the site with.
They weren't the only interested party though. The Las Vegas Review-Journal reports the Southern Nevada Regional Housing Authority is interested in building its own "tavern-style" casino on the site, and has already put forward a $5.5 million offer.
The overall plan for the site would also call for housing, retail space and a satellite campus for one of the local colleges in an effort to "change and transform the landscape of that property." With how the property currently looks, that would probably be necessary to draw interest from visitors, but they expect the casino will help pay for the whole thing.
Kevin Hanchett, the court-appointed receiver for the property, noted that there are three other potential buyers of the property that have yet to be revealed. So it seems like the question will not be if there will be a new Moulin Rouge, but when.