Kyle Cartwright has the Midas touch when it comes to poker. The professional poker player has already racked up over $2 million playing on the WSOP Circuit and has one WSOP bracelet and eight WSOP Circuit rings. Even when he loses at the felt, which happens to the best of them, he still manages to come out a winner. Case in point, this past Tuesday.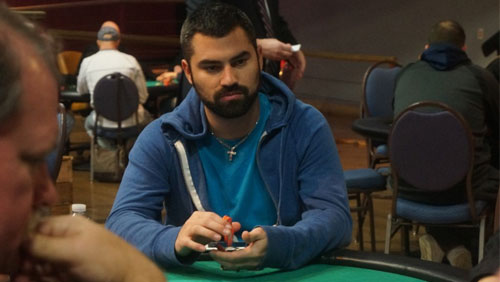 Cartwright was participating in a WSOP Circuit game at the Rio in Las Vegas this week, ultimately finishing in 21st place at the $1,700 NLHE Main Event and taking home $11,913. He tried his luck at the $2,200 NLHE High Roller, only to bust out before reaching the cash. While he had a nice return on investment between the two events, what he did next was even better and might possibly be something the Guinness Book of World Records needs to look into.
After being sent to the rail, Cartwright hadn't quite expended all of his poker energy and decided to sit down at a video poker machine. Playing five credits per hand, at $25 a pop, he was putting $125 on the line each time the cards were dealt. The gamble paid off, as Cartwright ultimate scored a Royal flush. To ensure he wasn't accused of talking smack, he posted about it on Twitter, showing a picture of the game screen and commenting, "Guess I got 4th in the main…"
The probability of hitting a Royal flush in straight poker is 1/649,740, or 0.00015%. However, Cartwright hasn't hit just one big hand. In the summer of 2017, he hit three royal flushes in the same number of months playing video poker, with all of them being Hearts. He also has recorded a fifth, which he found in April of last year. That, as opposed to the others, was not a Heart flush.
Cartwright has to have some magic in his fingers to be able to overcome incredible odds five times to score a royal flush. Each time, because of the wager he was making, he reportedly picked up $100,000 – $500,000 in total in two years playing video poker with five royal flushes. That has to be some kind of record.