WSOP.com celebrate their fourth birthday, and Kyle Cartwright wins his seventh World Series of Poker Circuit gold ring at the Imperial Palace in Biloxi.
Guess who's birthday it is, today?
WSOP.com is four-years-old.
The Nevada Gaming Control Board (NGCB) doesn't publish online poker revenue numbers, but news amongst the rhubarb is that it's barely worth mentioning.
WSOP.com opened for business Sep 19, 2013, five months after Ultimate Poker was the first after Gov. Brian Sandoval signed Assembly Bill 144 into law.
Online poker rooms were hoping that poker players would swoop on Las Vegas like vampire bats on a Californian swimming pool desperate to quench their thirst. It never happened. Ultimate Poker closed in Nov 2014, and today, only WSOP.com and Real Gaming offer online poker in the state.
To mark the birthday of WSOP.com, Las Vegas Sun scribe Thomas Moore sat down with Bill Rini, head of online poker for WSOP, and Seth Palansky, vice president of corporate communications at Caesars Interactive Entertainment, to take a trip down memory lane.
Here are the highlights of that discussion:
Rini told Moore that WSOP.com had seen revenue growth in each of its four years in operation, and he puts that success down to the power of the WSOP brand and their effectiveness of cross promoting live and online poker events.
One of the disappointments for Rini is the lack of Californian poker players he felt would travel to Nevada to play online poker. He understands that the WSOP apart, people who visit the state on a short trip aren't going to spend that time playing online poker.
When it comes to numbers, Rini stated that WSOP.com has between 35-38k registered players, numbers peak between 1.2k-1.5k on any given night, but the norm is 100-200 people.
Palansky told Moore that the next frontier for WSOP.com is to compact with other states. They currently share liquidity with Delaware, but not with New Jersey. The rest of the U.S. Is a little slow on the uptake, and WSOP.com might be celebrating their 10th birthday before Palansky's vision for the future bear's fruit.
Kyle Cartwright Wins Seventh Gold Ring in IP Biloxi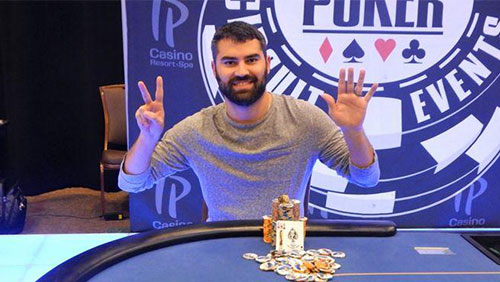 In February 2011, the name of Kyle Cartwright slipped onto the Hendon Mob website after winning a gold ring in a $345 buy-in event at the World Series of Poker Circuit (WSOPC) in Harrah's Tunica for $25,678. Yesterday, he bookended his profile after beating 343 entrants in the $1,657 Main Event at the Imperial Palace (IP) in Biloxi.
Cartwright's victory is his seventh gold ring win, and his third Main Event, including his second win at this venue. In 2012, he beat 300 entrants to take the $107,992 first prize.
The 29-year-old cash game player rarely plays tournaments, but when he does, he is always at the business end of these things. His $118,332 first prize is the third largest of his career after the $360,435 he banked for his first WSOP bracelet win, and the $142,290 he secured during his first WSOPC Main Event win back in 2011 at Harrah's St Louis.
Cartwright had to outmuscle Timothy Miles in a four-hour slugfest. Cartwright would later tell WSOP reporters that Miles was the best heads-up player he had ever faced.
Cartwright has now amassed over $1.6m in live tournament earnings.
Final Table Results
1. Kyle Cartwright – $118,332
2. Timothy Miles – $73,157
3. Thumand Boothe – $53,369
4. Kevin Benoit – $39,586
5. Christopher Mclean – $29,820
6. Bob Beck – $22,808
7. Robert Chow – $17,699
8. William Stanford – $13,933
9. Saeed Nia – $11,123
WSOPC Gold Ring Winners
1. Maurice Hawkins – 10
2. Valentin Vornicu – 9
2. Alex Masek – 9
3. Chris Reslock – 8
3. Robert Hankins – 83. Ari Engel – 8
4. Cory Waaland – 7
4. Joshua Reichard – 7
4/ Kyle Cartwright – 7