Partypoker sponsors Bill Perkins' The Thirst Lounge as part of a broader strategy aimed at increasing their streaming presence on the Internet.
What are you thirsty for?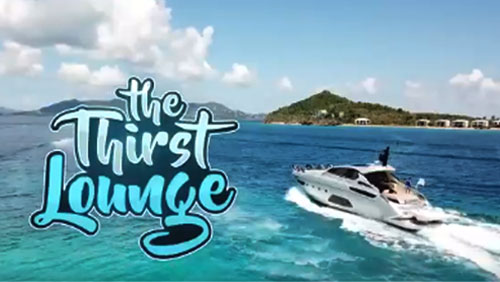 Do you want to be the next big country music star?
A drug dealer?
Maybe you want to create a product that removes frozen dog shit from Montreal driveways?
It's all about having a sense of purpose, baby. Without purpose, you're floating through life without a rudder. Purpose gives you meaning. Purpose gives you hope. Purpose gives you balls the size of the ones tall people throw in hoops.
And Bill Perkins' bounce like that.
In 2016, the Hedge Fund Manager, film director, poker player, whatever shmether, got into the whole Twitch stream thing in a big way, combining his globetrotting private jet, superyacht lifestyle with poker, computer monitors and microphones.
Within a year, Perkins had talked the Staples brothers (Matt and Jaime) and Jeff Gross into hopping on board his yacht for a streaming adventure called Streamboat, and it was a huge success.
After Gross signed for PokerStars ahead of the 2017 World Series of Poker (WSOP) agreement was reached for his employer to sponsor Streamboat 2 adding Kevin Martin into the mix. Unfortunately, a hurricane got in the way and the second adventure ended before it started.
Undeterred, Perkins bounced back, rebranding his live stream as the Thirst Lounge and asking Staples and Gross to help him find the perfect house. He should have hired someone else. The pair failed miserably, and Perkins ended up hiring not one, two, three, four, five, six, seven, eight, or nine streamers – Perkins ended up with ten streamers on the payroll.
Fortunately, he can afford it.
As the website says:
"The Thirst Lounge is a way of life where we encourage people to be "thirsty" for bigger and better things so they can live like they always wanted."
Here are the ten:
Adam Klein
Cat Valdes
Drew
Ebony Kenney
Voislav Ivanovski
Jon Pardy
Justin Kelly
Kelly Minkin
Matt Forsythe
Priestley Leng
Joining them will be partypoker, and one suspects a glut of partypoker sponsored pros, as the pair develop their relationship.
In a press release that landed in my inbox this evening, a partypoker spokesperson said the decision to sponsor The Thirst Lounge is part of a broader streaming strategy being adopted by partypoker over the coming months.
There was also a cliffhanger.
'More exciting announcements in the coming days.'
Jeff Gross?
Speaking of the deal, Perkins said he was 'thrilled' that partypoker was 'thirsty' to come on board, and that he was looking forward to the Thirst Lounge 10 developing the Thirst Lounge and their brands.
Streaming begins on Valentine's Day.​