The World Series of Poker Circuit in Potawatomi ends with Michael Hudson winning the Main Event, and Aaron Massey dedicating his third gold ring win to the family of his friend who recently passed away.
The next time Michael Hudson's standing in a supermarket line holding a bag of onions he's going to have a tad more money to pay for them.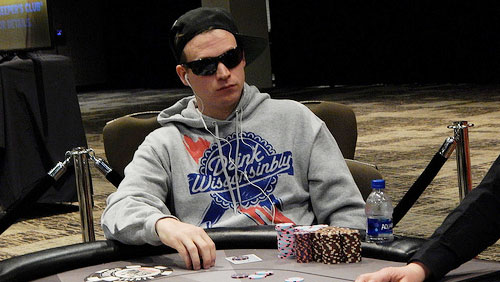 Hudson has taken down the 667-entrant, $1,700 buy-in Main Event at the World Series of Poker Circuit (WSOPC) at the Potawatomi Events Centre. The 32 years old from Illinois wins a seat into the season-ending Global Casino Championships as well as a $207,159 pat on the back.
It's Hudson second win, the last coming more than a decade ago when he won a 287-entrant $5k side event at The World Poker Tour (WPT) Doyle Brunson Five Diamond World Poker Classic for a career-high $490,095.
Speaking to the WSOP after his win, Hudson said that he had gotten 'lucky', and rarely plays tournament poker these days, describing his pursuit of excellence as 'I just play here and there.'
So will Hudson be spending more time on the felt after his big win?
"I'm sure I'll play like the Hammond Circuit, but I'm not going to like grind my life away."
Hudson beat the six-time gold ring winner, Joshua Turners, heads-up, and the former Bellagio Cup millionaire, Kevin Saul, placed fourth.
Final Table Results
1. Michael Hudson – $207,159
2. Joshua Turner – $128,183
3. Hank Sitton – $94,017
4. Kevin Saul – $69,917
5. Brett Apter – $52,698
6. Damjan Radanov – $40,248
7. Nathan Braungardt – $31,144
8. Cody Brinn – $24,414
9. Eric Wasylenko – $19,381
Three other stars of the game that put in a Richard The Lionheart performance were Aaron Massey (14th), Kevin Eyster (35th) and Ravi Raghavan (48th).
Aaron Massey Wins Third Gold Ring
Speaking of Massey, and the man who finished 14th in the Main Event took down Event #9: $1,125 No-Limit Hold'em Big Blind Ante for $50,957.
The 34-year-old from Chicago dedicated his third gold ring win to the family of his good friend John Patrick Cibula, who sadly passed away recently.
"I came home to spend time with the family that has treated me like family my whole life," said Massey. "And upon talking about him a lot, it brought a lot of values that he had to the forefront, things that I've lost perspective of along the way. I think that, in my life, I should be more like him," Massey continued "And he was with me. He brought out the best of me and this was dedicated to him."
Massey's victory over the 196-entrant field was the 12th of his career, and he has now earned $3.6m in live tournament earnings with a smidgen below $1m earned playing WSOP events.
It's his first victory in two years. Massey's most significant win remains the 2012 $2,100 buy-in, $4m GTD River Poker Series Main Event in the WinStar World Casino for $651,559.