Missouri Senator Denny Hoskins is a busy man. The Republican has filed several bills which would change the status of gambling in the Show-Me state.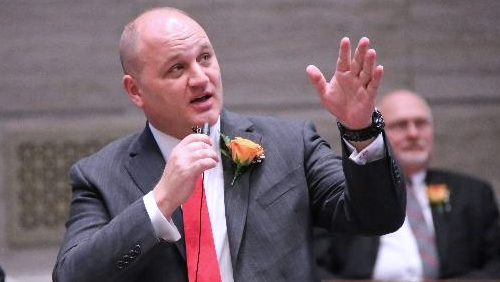 Local news reports that Hoskins has introduced the Video Lottery Control Act. If passed, it would regulate the 14,000 lottery machines in the state's gas stations, grocery stores and other venues. The lottery machines are already there, but without any oversight, regulation or taxation.
With the new regulation, Hoskins estimates that $36 million would be brought in to the state's coffers through taxation. It would also establish regulations for where the machines are allowed, and set up a self-exclusion system for problem gamblers.
On the other side of the isle, Senator Kiki Curls is afraid the machines could cause problem gambling, especially with minors. She said:
"Especially our smaller convenience stores and supermarkets where kids frequent. Some of the convenience stores in my district are largely a lot of neighborhood kids that come in and buy chips and candy or soda … and I am concerned about the thought of there being a row of slot machines right there in the doorway so that they can be viewed from the counter."
The bill would address these concerns by removing the machines from any area frequented or visible to minors. The real debate appears to be over where the regulation jobs will go. State Senator Brian Williams is upset that the cut-off for regulator jobs is 21, precluding high school graduates from applying for those jobs.
This is Hoskins' third attempt to pass this bill, so we'll have to see if Missouri is ready to get serious about regulation in this new session.
Also up for conversation in the new session is Hoskins' Bill 44, which would allow sports betting on river boats in the state. That bill was pre-filed in December, but is very much on the agenda now that the legislation is in session.
Finally, Hoskins' has proved he's not just about gambling. He has addressed the growing problem of fake service animals, submitting a bill that would force tenants to prove they require one before a landlord would be forced to accept pets in his building.
Comments