Lee Davy sits down with the 'Norm Macdonald Has a Show' star of the same name during the PokerStars Player's No-Limit Hold'em Championship in the Bahamas where they talk about his nervousness before going on stage, businessmen pulling prostitutes, and Tom Jones' love of sniffing grandmas knickers.
Do not go gentle into that good night,
Old age should burn and rave at close of day;
Rage, rage against the dying of the light.
Dylan Thomas

*To download this audio, right click and save link as*
Norm Macdonald knew that stanza from Do Not Go Gentle Into That Good Night was from the Welsh wizard, Dylan Thomas. The former Saturday Night Live star knows a lot of things about Wales, far more than the Las Vegas dealers who seem to think that it's part of London.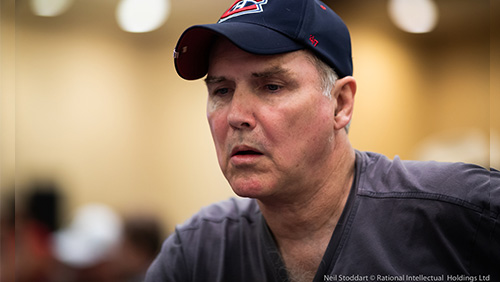 After asking where I come from, Mcdonald says, "I know where Wales is. The Welsh people speak the Queen's English better than anyone on the planet. Richard Burton, Dylan Thomas – the recordings of those two are beautiful."
Let's not forget Tom Jones.
"I saw Tom Jones when he was old," says Macdonald. "He does this gross thing. Some old lady throws her underpants, he picks them up, smells them, and says, 'I think I know that one.' Gross, you're 80."
Celebrity interviews like these can sometimes feel like having an eyeball extracted with a claw hammer through the constant monotony of common questions sending the star spiralling silently towards a supernova.
Not Norm.
And you feel like you can call him Norm because he gives off the vibe that he's grateful to spend ten minutes talking to you. If there was a status issue before I sat down, I don't feel it now. He could be a parking lot attendant like Mike for all I know. I ask him how he managed to do 44 weeks on the road during 2017.
"I like clubs," says Macdonald. "I don't like theatres that much. It's funny because being on stage, doing the comedy is the fun part, and everything else is the work. They pay you for the comedy, but really they are paying you for being on an airplane, and walking around a mall searching for food – that's most of your day – the search for food.
"Whenever I travel in the hotels, and the airplanes, it's always me, and businessmen going to conferences and stuff. I am just so happy I'm not a businessman. They're at the bar with their suits on trying to pull prostitutes. That's why you got into your job, and I got into mine – so that we didn't have to be businessmen."
We live in an increasingly savage world if one dares to be politically incorrect. I ask Macdonald how this change in emphasis has affected his career?
"When you're doing the comedy the audience lets you know if you don't like what you're saying," says Macdonald. "They generally never do. Maybe a new joke or something doesn't work it's generally for comedic reasons not because you say anything that's politically incorrect – they don't care about that. But, only one person could hear about it from their friend and write a blog, now that's the problem. I remember one comedian getting in trouble, and the person that wrote the thing wasn't at the show, but a friend told them that he had said this thing, and they wrote the recollection of what their friend said out of context. Nobody goes out and says politically incorrect stuff, and the whole crowd is booing, and the whole thing stops. It's always these unseen people that didn't even see the show. It's bizarre. It's hard because the audience is responding to what you're saying. They are supposed to decide if you've gone too far."
It sounds like the rules have changed, and Macdonald agrees.
"You have a public, and private discourse these days," says Macdonald. "It's like the Soviet Union was under communism. People get together, and say, 'the government sucks,' and then say, 'the government is great.' Imagine if Trump was telling people you can't say this or that – the people would go insane, but because it's some guy in his basement then it's ok. It's a very bizarre time."
Every cell and belt buckle on this guy screams authenticity. How does Macdonald balance being his own man, and having to conform to the norms of the TV and movie industry?
"TV and movies are different," says Macdonald. "I started doing stand up so I could do whatever I wanted, and I still can. But when you do TV and movies, you can't do anything. I'm not bitter; those are the rules. You have to do what they want you to. I'm not good at that anyway. I just want to do stand-up. You don't need a filter. You have your freedom. Obviously, some people get into trouble, and they didn't used to. But you don't answer to anyone. If you do good or bad, you take the credit or blame. That's what TV shows do. They say this TV show is great, but they're cancelling it because they're idiots. It's probably not that great, most of the TV shows on the air are no good what's the odds your cancelled show is any good. Stand-up – it's good, it's honest, you can't say it's anyone's fault, and you don't have to share the credit."
I want to know how Macdonald feel before he goes onto the stage.
"I get super nervous still, but as soon as I am on stage it's alright," says Macdonald. "People say public speaking is hard, and it is because of the people. But when you're on stage with the lights on, and you have the mic, and they don't, it's almost like you're alone. If you go to a radio show, there are people outside looking in, and you have the mic and are talking. When you're going towards the stage, you're getting nervous because everyone is talking, you don't have a mic, and you feel alone. When you get up there, and they aren't talking, and you are – then there is nothing to be nervous about."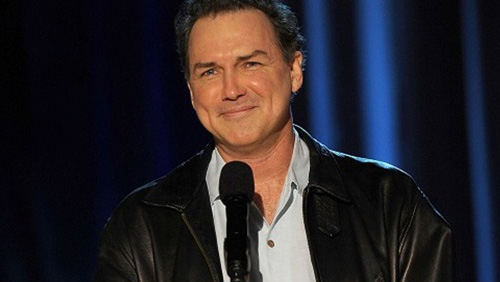 Are we talking 'puking in the bucket' nervousness?
"Not that bad, but it used to be," says Macdonald. "It's the anticipation of something. It's bizarre. You go up there and relax, so you think your brain would remind you the next time, 'don't be nervous because you will be relaxed,' but for some reason, it doesn't – I think it's an animal thing. Before you go up there, they aren't a crowd they are a mob, talking to each other amid utter chaos."
Does Macdonald get nervous before he plays poker?
"I guess," says Macdonald. "I have never thought about it. I do get nervous when I am not at the table. I'm at the World Series, and you leave your table and are doing good, and on the way back from the table you see piles of chips everywhere and think, 'oh no'."
And how does poker make Macdonald feel?
"It makes me feel good when I make right decisions, but usually now I am only thinking about the wrong decisions I made," says Macdonald. "I used to focus on the good things. Now I say, 'you can't learn from good things', so I try to store the 3-4 bad things that I do in my memory, and try not to do them again."
And with that Macdonald went into the good night, gently, of course.​