Prague – 19 December 2018 – Prague Gaming Summit is a must-attend event in the gaming events calendar and the 3rd edition of the boutique style conference is in the spotlight of many industry experts and companies.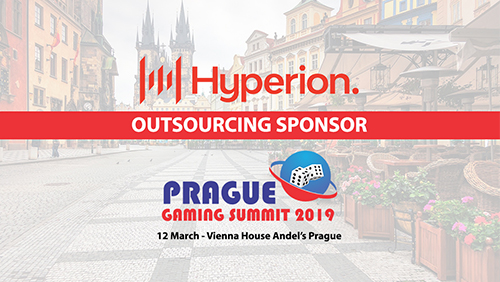 Whether you are a new to the industry or a veteran, Prague Gaming Summit offers the opportunity to learn something new and be part of a group at the forefront of gambling industry in the Czech Republic, Slovakia, Poland, Austria, Switzerland, Germany and Liechtenstein.
The Summit will approach all regulatory and compliance related aspects of the mentioned markets and will also highlight some trending topics such as the relationships between Regulators, Operators – Affiliates, MasterCard's new requirements for Online Merchants (CFD, FX, Gaming, Crypto), understanding millennials (with emphasis on eSports, Daily Fantasy Sports an Virtual Sports), outsourcing for gaming companies, IT security, AML, KYC, CSR.
The organizers are honored to announce that in 2019, they will have the support of Hyperion Tech as OUTSOURCING SPONSOR.
Hyperion Tech is a dedicated IT teams company for mid and long-term projects based in Malta. We Build outstanding passionate dedicated teams. We Know That By Creating The Right Company Culture, Teams Form In Their True Potential and that is exactly what we do. Hyperion is a disruptive force in the IT market thanks to a lean an effective approach for enterprise clients.
Don't miss out on this exciting opportunity to meet the team at Prague Gaming Summit 3 and discuss collaboration possibilities! You can Register here or View the Agenda
As mentioned above, the conference will focus on several topics among which the use of AI in sports betting industry related Big Data and in Responsible Gambling.
The program will also include a very important IMGL MasterClass that will aim to sharing the latest insights by the International Masters of Gaming Law experts about advertisement banning.
Full details about the event can be found on the official event website: www.praguegamingsummit.com
About the organizer, European Gaming Media and Events
European Gaming Media and Events is a leading media and boutique event organizer company in Europe and produces the prominent conferences in the region such as:
• CEEGC (Central and Eastern European Gaming Conference)
• CEEG Awards (Central and Eastern European Gaming Awards)
• Prague Gaming Summit
• Mare Balticum Gaming Summit
• Baltic and Scandinavia Gaming Awards
• EGC (European Gaming Congress)
• VIGE (Vienna International Gaming Expo)
The live events/conference division is in charge of organizing boutique style executive gaming events that focus on bringing inside information from the top gaming experts in the European Union and beyond.
In short, they cover most areas of Europe with international events that serve the local and global industry, optimize networking opportunities and bring the hottest topics into scope.
The event destinations in 2019 will include a further expansion for the company in their quest to enter the Western European region and bring their expertise to produce local gaming events.
For more details about the calendar, agendas and locations, visit the Live Events/Conferences section on europeangaming.eu