Phil Galfond launches update #6 of the Run It Once promotional machine, using tension and status to significant effect with their new StreamR move. 
Butter in a dish v tub of margarine.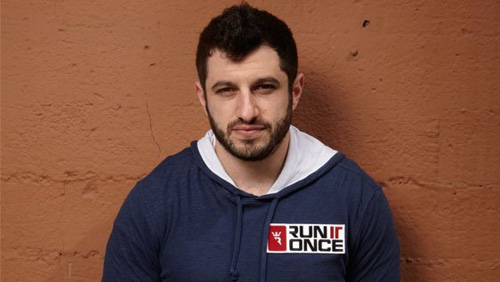 Deli-style ham sandwiches v fish paste.
Gola trainers v Adidas.
From the moment I walked through the school gates wearing a jumper with only half a Slazenger badge I knew I was in trouble. Half-Chinese. English. I looked, sounded and smelled differently than everyone.
All I wanted was to be cool, and the only people who understand my needs wants and desires seemed to be the marketers of food, clothing and perfume.
I wanted to be cool.
I wanted to fit in.
I wanted to be a part of THE tribe.
In marketing parlance, status and tension go together like keyboards and fingers, and Phil Galfond is putting this into play brilliantly.
StreamR Rakeback deal 
When Galfond releases an email update on Run It Once (RIO) Poker it creates tension from the moment it lands in our inbox, because we know he is about to tell us something we don't know, but desperately want to know.
Galfond is building an online poker site the likes of which we have never seen before. In doing so, he is creating the ultimate mix of tension and status, because when we're at live poker events talking about where we play online, we don't want anyone to think that we're NOT playing on Galfond's site.
Heaven forbid.
What will we be missing?
What will the people say behind our backs?
"What? You don't play on Run It One Poker? Do you don't play with Phil Galfond?"
Galfond cutely titled RIO Poker Update #6 From Stream to River, and it focuses on the critical role that live streaming has in the modern day poker industry.
Galfond begins by talking about RIO's vision of upholding the poker dream, and how the poker streamer has emerged as another type of poker dream; one his team want to make a part of RIO Poker DNA, talking about streaming as a need and not a want.
RIO Poker will encourage its players to stream live when playing on the site by offering great Rakeback opportunities. The idea came from RIO Pro Elías Gutierrez.
Watch Time 
Galfond will call RIO Poker Streamers StreamRs. In choosing a name, Galfond is beginning a tribe. There will be the tension of self-doubt that emerges when you consider if you have what it takes. To become a StreamR elevates your status, pure and simple. 
StreamR's will receive Rakeback based on the number of hours people spend watching your stream. If you stream for four hours, with ten average viewers, then you have incurred 40 hours of watch time.
Net Rakeback 
Watch time is then translated into Net Rakeback
Net Rakeback is the sum you pay in rake after taking into account the Rakeback/rewards you have already received. Galfond calls Net Rakeback 'true rake'. 
The example Galfond gives is as follows:
• If you pay €90 in rake and receive €10 in Rakeback, your net rake paid is €80.
• If you pay €150 in rake and receive €70 in Rakeback, your net rake paid is also €80
RIO Poker promises help, guidance and tools on how to get set up as a StreamR, they link your livestream to the RIO website, and you will benefit from a four-level Rakeback scheme.
Level 1
Receive 200hrs of watch time per month and receive 50% net Rakeback.
Level 2 
1,200 hours and 75% net Rakeback
Level 3 
8,000 hours and 100% Rakeback
Team RIO 
20,000 hours and 110% Rakeback and "More."
What does the "More" mean?
Wait and see.
More tension related to status.
Here is blog post #6 in full. 
You can expect blog post #7 to go into detail on the site's primary rewards scheme.
More tension.
More status.