In March 2017, Eli Elezra put the finishing touches and binding on his autobiography, Pulling the Trigger: The Autobiography of Poker Pro Eli Elezra. It was published to the world, but with one drawback—it was only available in Hebrew. A year and a half later, the English version of the tell-all is coming and will be published by Two Plus Two Publishing.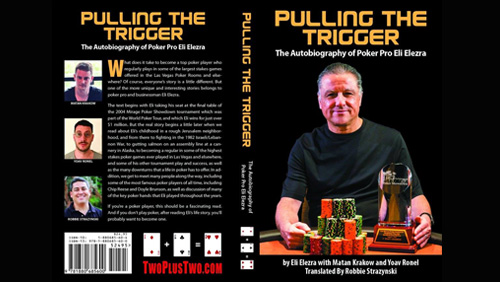 The book took Elezra six years to write. It begins with his performance at the 2004 World Poker Tour Showdown, which he won for more than $1 million, but has flashbacks to earlier times in his life, as well. He discusses being a child in Jerusalem, cleaning and gutting fish in Alaska and fighting in the 1982 Lebanon War.
Translation of the autobiography was facilitated by Robbie Strazynski, founder of CardPlayer Lifestyle. He is also co-host of the Top Pair Home Game Poker Podcast on PokerNews, which he leads with Bruce Briggs. Strazynski was also one of a crowd of 200 that attended the book launch in 2017, at which time he was asked about offering an English version.
In speaking about the project with PokerNews, Strazynski said, "I've always been a big Eli Elezra fan. Like so many other poker fans out there, I enjoyed watching him on High Stakes Poker and following his legendary career. To have been asked to undertake a project like this is a true honor, and I'm grateful to have precisely the right set of skills in order to carry out the task.
"While I speak and understand Hebrew, it's not my mother tongue, so I can't do simultaneous translation like the professionals at the United Nations, for example. The process consisted of 1) scanning the Hebrew book with my eyes while audio recording myself speaking the translation in English. 2) Transcribing the audio recording, which I couldn't really get assistance with because it was pretty raw and not fluent speech. 3) Editing and proofreading the transcription."
The book should be ready for its English debut on January 3, 2019. It is already available for pre-order via Amazon for $24.95.