Starting as the chip leader on the final day of a tournament is a good feeling. Remaining the chip leader throughout the rest of the action is even better, and that's exactly what happened to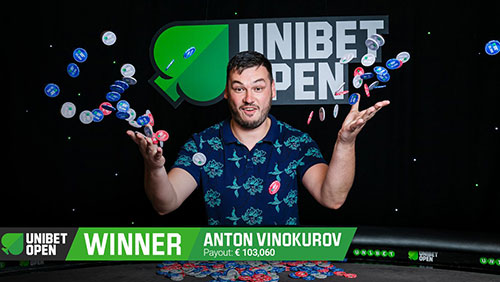 Anton Vinokurov. The Russian player led in chips from beginning to end at the 2018 Unibet Open Bucharest €1,100 Main Event, eventually taking the win, the title and €103,060 (US$119,000) in cash.
592 players flocked to the JW Marriott Bucharest Grand Hotel from August 2-5 for the tournament. However, Vinokurov showed his stamina and skills to develop an impressive lead. When the field was down to only 12 players, he controlled about 30% of all the chips still in play.
Following his victory, he said, "I was playing good. Some of the other players were playing good, and some were not playing good. I believed when I started play today as the chip leader that I must make it to the final table and finish in the top three. Then when there were five players left, I knew I would win. I felt no other players could beat me."
As the final day action began, there were only 17 players remaining. Martin Wendt, who was in a precariously dangerous position as short stack, couldn't find his groove and bowed it with €5,870 (US$6,783) in the first hand of the day. The field continued to dwindle toward the final table, with several players getting caught under the gun. Tomasz Kozub was sent to the rail in 10th place after trying to find a club flush against Daniel Chutrov. Chutrov, holding A-Q and no clubs, scored the elimination with two pair, but was next to go when his pocket rockets fell to the pocket Queens of the eventual winner.
After Vinokurov scored a few more substantial wins, he found himself battling against Romanian players Cosmin Cimpeanu and Carmen Zainescu.  Zainescu, who is a back-to-back Unibet Open Bucharest Ladies Event champ, was sent packing after an ill-timed A-4 jam found Cimpeanu's A-J staring back at her. A J on the flop gave Cimpeanu the edge and Zainescu didn't find any relief on the turn or the river. She took home €44,170 (US$51,043) for her third-place finish.
In the final showdown, Vinokurov picked up a set on the flop. Cimpeanu was bullying a Q-3 hand, and Vinokurov was only happy to respond. When Cimpeanu picked up a pair on the river, he felt a little bit of relief and bet into the hand. Vinokurov thought for a few seconds before shoving all in, and Cimpeanu, feeling confident with his single pair, called. As the cards were flipped, his relative confidence was deflated as he realized he was beat. He was relegated to second place with €64,050 (US$74,014).